5 Simple and Affordable Ways to Add Curb Appeal to Your Home
It's true what they say; You shouldn't judge a book by its cover. But when it comes to houses, the outer appearance is one of the most important factors in determining value.
Studies show that houses with high curb appeal sell for an average of seven percent more than houses with a lackluster exterior. The good news is, there is a wide range of ways to add curb appeal to your home without breaking the bank. This article can help.
To get inspired for your next outdoor renovation, read on for our basic guide.
1. Update Lighting Fixtures
If the outside of your home looks dim and dark at night, you're missing out on much of its potential beauty. By adding or updating lighting fixtures, you can create a more high-end, modern look to your property.
One way to improve your outdoor lighting is to illuminate your front entrance area. Not only does this create a welcoming feel for any visitors, but it can also help keep your home secure. With a well-lit doorway, you can be sure of any who come on your property.
Consider hanging wall fixtures on either side of your doorway for added warmth and brightness. When adding brightness with updated lighting fixtures, you may want to opt for LED bulbs. These bulbs use less energy than incandescent bulbs and can also remain brighter for longer.
Another way to update your outdoor lighting is to add walkway lights on the ground. These fixtures are usually simple to stick into the ground and effective for illuminating your yard at night. Consider creating a path to your front door with bright, in-ground walkway lights. This allows your shutters to sit square either on the face or within your window recess.
2. Pressure Wash
Even if you have the most beautiful outdoor features, you must keep up with your home exterior's cleanliness. This can create the look of a newer, more updated property. One of the best ways to wash any dirt and grime is by pressure washing.
You can find high-quality pressure washers at many local hardware shops, superstores, or online at an affordable price. Be sure to focus on the concrete in your driveways, garage doors, and stepping stones in your front yard. If you have brick features on the outside of your home, be sure to use your pressure washer on these as well.
If you have protective shutters or window trim, be sure to also focus on these details to ensure that they look new and in top condition. This simple step can keep your home looking beautiful and preserve many features for years to come.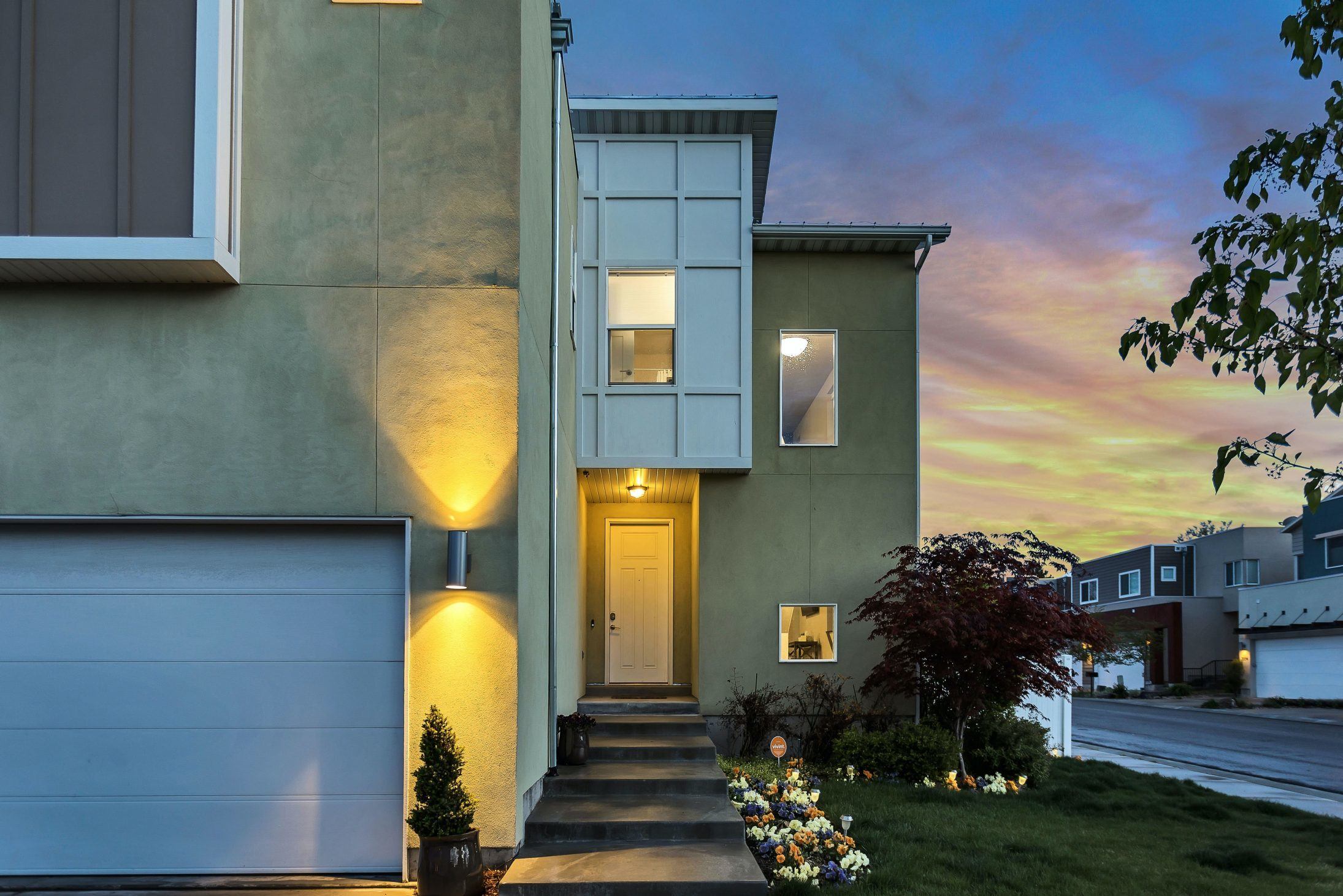 3. Repaint Your Walls
When looking at the exterior of a home, the paint color is one of the first features you'll notice. If you're trying to improve your home's curb appeal, consider adding a fresh coat of paint to your exterior walls. This is one of the most effective home improvement ideas for houses of all shapes and sizes.
No matter how beautiful the inside of your house is, chipped and peeling exterior paint can make your home look old, outdated, and rundown. To add beauty to your property, consider painting with neutral yet inviting colors. Some of the top colors to choose from are pale yellow, ivory, or slate grey.
Be sure to also paint the trim around windows, doors, and any porch features you may have. By investing in the paint color, you may be surprised at how much it can do for your home's curb appeal.
4. Get Creative With Outdoor Furniture
As one of the most creative and unique home exterior upgrades, outdoor furniture can add character and charm to your yard. While you may be thinking that outdoor furniture can get expensive, there are many affordable and beautiful options.
Consider searching at your local thrift or consignment shops to find unique, one of a kind furniture pieces. Many of these furniture pieces have much potential for little cost. You might enjoy renovating some of these furniture pieces to create a newer, more modern look.
If you have a front porch, adding seating or hanging swings can create a comfortable, welcoming, classic touch to your exterior. Outside seating creates another space for you to relax outdoors and spend time with guests. Consider adding comfortable and washable cushioning to any outdoor seating.
You might also like to add a small coffee table or side table for outdoor furniture areas. This can make for an ideal spot to enjoy meals, read, or get work done while still enjoying the outdoors. When adding outdoor furniture for curb appeal, be sure that the prints, colors, and aesthetic correspond with your home's overall feel.
5. Experiment With Landscaping
Another top way to beautify your home and help it stand out is to experiment with landscaping. There are many simple ways to do this, making it one of the most affordable curb appeal additions.
You might consider adding simple potted plants, bushes, or flowers to add color and variety to your yard. One of the most eye-catching, beautiful plants to add to your yard is the Vinca Minor flower or Periwinkle. These vibrant purple flowers are delicate, affordable options that will bloom in the Spring and Summer seasons.
The best part is, these need little to no maintenance and upkeep. These flowers are quick to grow and sure to capture the right attention. Be sure to give these flowers enough space to bloom, as they can grow vines up to 18 inches long.
Another beautiful way to experiment with landscaping is to add rocks or mulch to an outdoor garden. These simple additions can create a more put-together feel in your front yard. You can find a large number of garden supplies, rocks, and mulch at your local home improvement store for an affordable price.
Add Curb Appeal To Your Home Today
Are you ready to give your home the makeover it deserves? Now that you know some of the top affordable and effective ways to add curb appeal, what are you waiting for? Take your home to the next level with these tips today.
For more on all things home improvement, be sure to check out the rest of our website.
Thank you for reading!