The advent of the color black in modern kitchens
White has been the favorite theme of American kitchens for a long time. From cabinets to countertops and subway tiles, every corner delved in its purity and elegance. Occasionally, there have been departures from this theme, but these are few and far between as they could not sustain as this shade. You can think of turquoise and pink colors that had a moment after World War II or harvest gold and avocado green from the 60s to 70s. Regardless of these crazes, the white made its appearance in kitchen design for its default light and brightening effect.
However, of late, a new color seems to have entered this space even without any historical connection, and it cannot be anything else than black. From 2015, black started gaining ground in the kitchens.
Urban households' interest in glossy black cabinets, black marble workstations with white hints, black flooring, and black appliances is a mere reflection. The manufacturing companies noticed this change in customer behavior and came up with their sleek range of kitchen appliances and fixtures to tap into its potential.
Hence, you can say a kitchen faucet in black is the result of this latest trend.
Still, there can be some reservations from your end about this choice. You may doubt if it can enjoy a mainstream status without ending up as a flash in the pan. While your concerns can be valid to a certain degree, it essential to realize that the enthusiasm about a black kitchen sink faucet is unlikely to peter out for various reasons. Let's unravel them to determine why you don't have to worry about choosing it as a partner for your sink.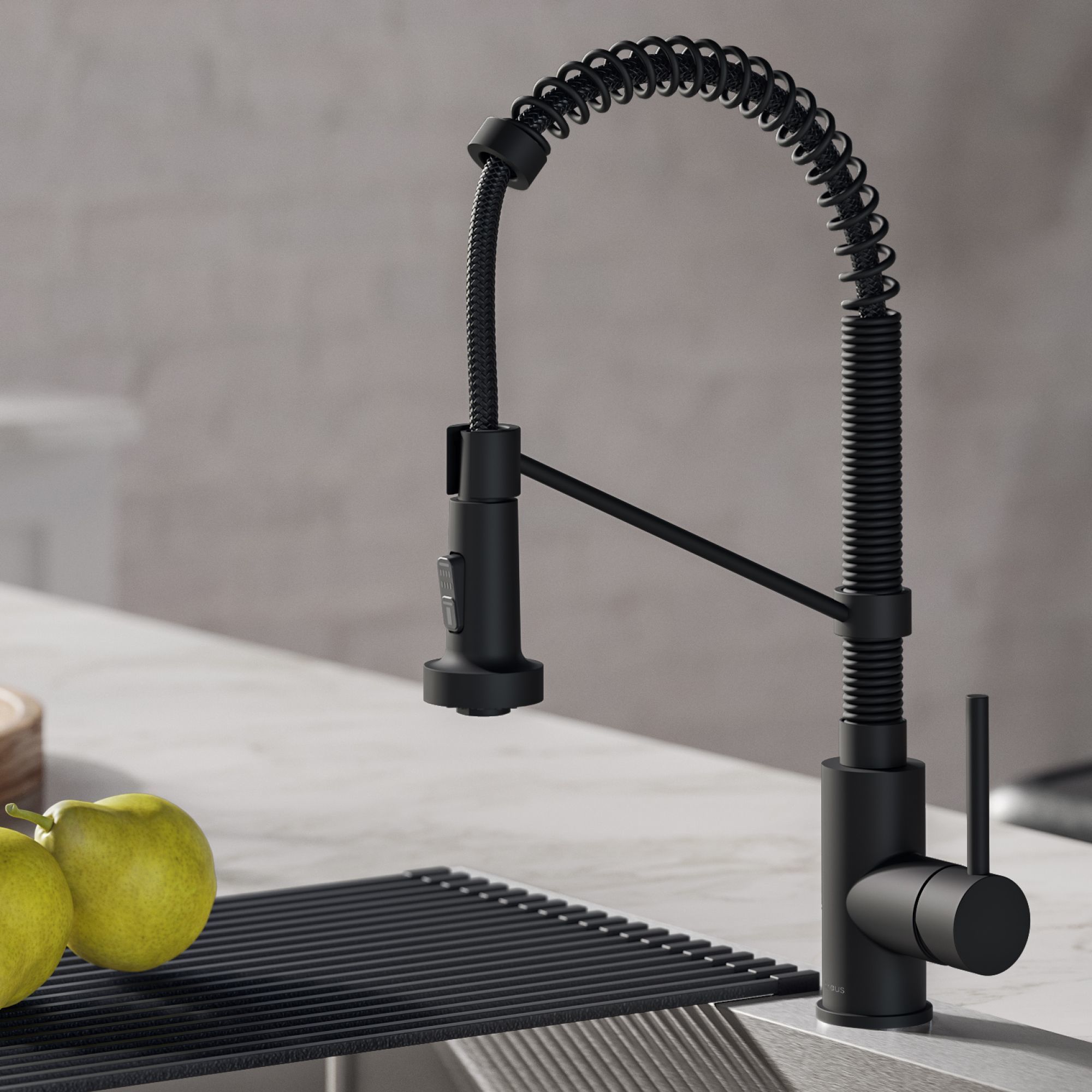 The magic of black color in kitchen design
The most comfortable part about this vibrant hue is its ability to pop out even amidst the most colorful surroundings. You can have wood cabinets in lighter tones and a matching sink to align with the designated corner. However, when you add a black faucet there, it can only break in to create a mix-and-match appeal, lending an authentic creative feel to the whole space. If you have an oversized farmhouse or under-mount sink, you can get a tall commercial-style faucet in matte black to complement its aura and strength. However, one thing that would need your attention is the clearance between the top of the tap and the overhead shelf storage.
The commercial faucets are well-known for their imposing height and curved neck. You cannot install one if there isn't sufficient room to accommodate its tall structure.
Anyway, another reason why black can persist is its ability to evoke personal taste and personality. The use of black color can be a symbol of your passion for a particular design. It can reflect your risk-taking streak. Hence, having a black faucet in your kitchen can somewhere echo the daring side of your existence. You may not immediately know it, but this cannot escape your friends and guests' attention. It would not be a surprise if someone comments on your choice to be quite bold after coming across a black sink faucet in your kitchen.
As far as aesthetic consideration goes, black may be a new entry into kitchen decors, but it has been fashionable, just like white clothing. You wear black when you have to look formal and sophisticated. Since it is also versatile, you can pair it with anything to arrive at the right sartorial choice. Similarly, when it comes to decorating or upgrading your cooking area, you can depend on this shade to produce the same effect. For example, adding a black sink faucet as tall as 18 inches can be more than enough to attain your décor goals, regardless of you desire your sink area to have a cohesive or contrasting presence.
If you wish to expand this shade's use, you can consider playing with a few surrounding elements. Your backsplash, cabinets, and countertops can be black. However, the sink has to be white or some other lighter tone to stand out and be in the company of a black kitchen tap. You can place rope chairs and French pottery in the backdrop to downplay the black's strong visual influence a bit, though.
The interior designers feel black can be the most sought-after bold hue of all. You can rely on it to be visible in any backdrop, whether it consists of pure white, woods, metals, or concretes. The matte finish and polished surfaces make you feel at home. And matte finish in black is incredibly distinctive as it embodies the charm of subtle and earthy tones. Due to this, when you combine it with shiny surfaces in the kitchen, it infuses a sense of balance effortlessly.
The commercial black sink faucet in black
Commercial faucets can be the pride of any busy kitchen and restaurant. However, even if you are a home chef, you can have it in your cooking zone to soak up its unmistakable professional appeal. Since these models usually come with single-handle, you will have to make sure you are comfortable with this format. If you have been using double handle models, switching to this type of functionality can take a bit of time to acclimatize.
As such, the debate about the relevance of black should not bother you much if you are careful about its application. Going with an all-black theme can be tremendously risky. But you can alleviate it by being judicious about its use. To be precise, choosing a black sink faucet can be a perfect solution in any situation. Although this trend is not going anywhere, you can still trust your choice to be a long-lasting addition.
Make sure you visit only trusted stores for shopping. They can provide you with the right options at reasonable prices. You can also have faith in their design and features to be aesthetically and functionally superior, which may be tough to expect from anywhere else.
So, what are you planning to do? If you want to play safe and not miss the trend, then opting for black in the form of a sink faucet can be wise.