5 Potential Plumbing Issues You Should Inspect Before You Buy a Home
By: Jan Hajek | Date Posted: October 18, 2020
When you are buying a home, one of the first important factors you should consider is plumbing. This is the system that's responsible for supplying water and gas to the home.
It connects everything, from the sinks, toilets, showers, and other fixtures. However, since plumbing is probably the least exciting system, most people planning to buy a home often overlook it.
In fact, these tips can also be used by those on the rental market. No, you won't have to pay for the fixes, but it will save you a lot of stress or discomfort if you have to live in a place without proper plumbing.
While some plumbing problems are minor and have easy and cheap fixes, others can cost you hundreds and even thousands for repairs. So if you don't want to end up paying more than what you signed up for, here are some of the most important plumbing issues you should first check out before buying a home.
Plumbing Issues to Look Out For When Buying Home
Below are five of the most common plumbing issues to keep an eye out for when purchasing a house. Looking out for each of these issues can save you a lot of trouble in the future, so be diligent and remember it is better to be safe than sorry!
1. Toilets
When visiting a home you're interested in buying, make sure to flush all the toilets and check if the water is going down properly. It would help if you also were on the lookout for any discoloration or spots on the floor around the toilet since leaks can quickly rot the floor.
Toilet-related plumbing issues can be an expensive and lengthy fix for new homeowners. Save yourself a lot of time, money, and headaches by carefully expecting the toilet and its plumbing.
2. Water Stains
Look at the ceilings, and if there are any brown stains, there's likely a leaking pipe or a leak in the roof. If you notice this, you need to find out whether a previously repaired problem caused it. If there was no work done, it's probably an issue you'd have to fix later on.
The best-case scenario is that it is just a cosmetic stain, and the repair has already been done. There was a bad leak in the worst-case scenario, and there is an unknown structural issue due to a rotten beam or warped flooring.
3. Water Heater
Replacing a water heater is expensive. Thus, if you don't want to take on that extra cost, you have to make sure that the existing water heater does not have any issues. To know this, ask how old the unit is. If it's more than 10 years old, then it's near the end of its life.
Additionally, watch out for any signs of rust, dampness, and lack of hot water. Make sure to check in and around the bottom of the unit's drainage basin, as this is where a lot of the issues usually reside.
Also, check around the outside of the drainage basin to see if there's damage or dampness, as this is usually a strong sign of a previous leak. The highest chance is that it has accumulated some dirt and limescale and therefore you need to fix the problem. If you want to upgrade your setup entirely, you can get luxurious rain showerheads and shower systems at Eisen Home.
4. Leaks
When doing your inspection of a house, go to the bathroom, kitchen, and basement. Turn off the faucets and check the water meter. If it's still turning, there's a leak somewhere, which can turn into a serious problem for you in the future.
This is one of the worst things to discover and arguably one of the checks that could save you the most money in the future. A leaking pipe can lead to all sorts of issues, from rotting wooden beams to broken electrical circuits.
You will need a plumber to help identify the exact location of the leak. They will be able to determine the extent of the leak and the potential damage it has caused. If it has been a longstanding leak, there could be some serious issues to contend with.
5. Sewer Lines
For this plumbing issue, you'd be needing the expertise and equipment of professionals. See, before buying a home, you need to make sure that the storm and sanitary sewers are all working properly. To do that, you will need to schedule a sewer camera inspection from a plumber from Burwood company or other Sydney local plumbers.
If you are buying an older home with trees in the surrounding, this is important to make sure that there is no tree root infestation in the lines. On the other hand, if you are looking at newer homes, roots may not be an issue. However, new homes are at risk of the sewer backup health risks line breaking at the foundation wall. While this takes a while to happen, it is best to know if such a risk exists in the home you are buying. 
Seek Advice from Professionals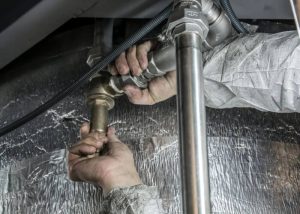 While you can already pinpoint some of the potential plumbing issues of a home, it is still best if you schedule a professional plumbing inspection before buying or making an offer. Houses are incredibly expensive and buying one is a lengthy and stressful process. Do not cut corners and seek advice from all required professionals. Even if you have the slightest of issues it is well worth your time to get things checked out properly.
A licensed and experienced plumber can check if everything is working properly and if there are repairs needed to be done. If there are, you'd immediately know how much it will be, and you can evaluate whether or not you are willing to add that to your total cost.
If you need a professional plumber in the Burwood area or anywhere around Sydney, give Inspired Plumbing a call at (02) 9190 6764. We can arrange an in-depth inspection of fixtures, drains, sewer lines, toilets, and pipes to help you make an informed choice.
These Canterbury plumbers are generally considered to be one of the most reliable plumbing companies. Give them a call to discuss any typical plumbing or heating issues you may be facing.
Thank you for reading!