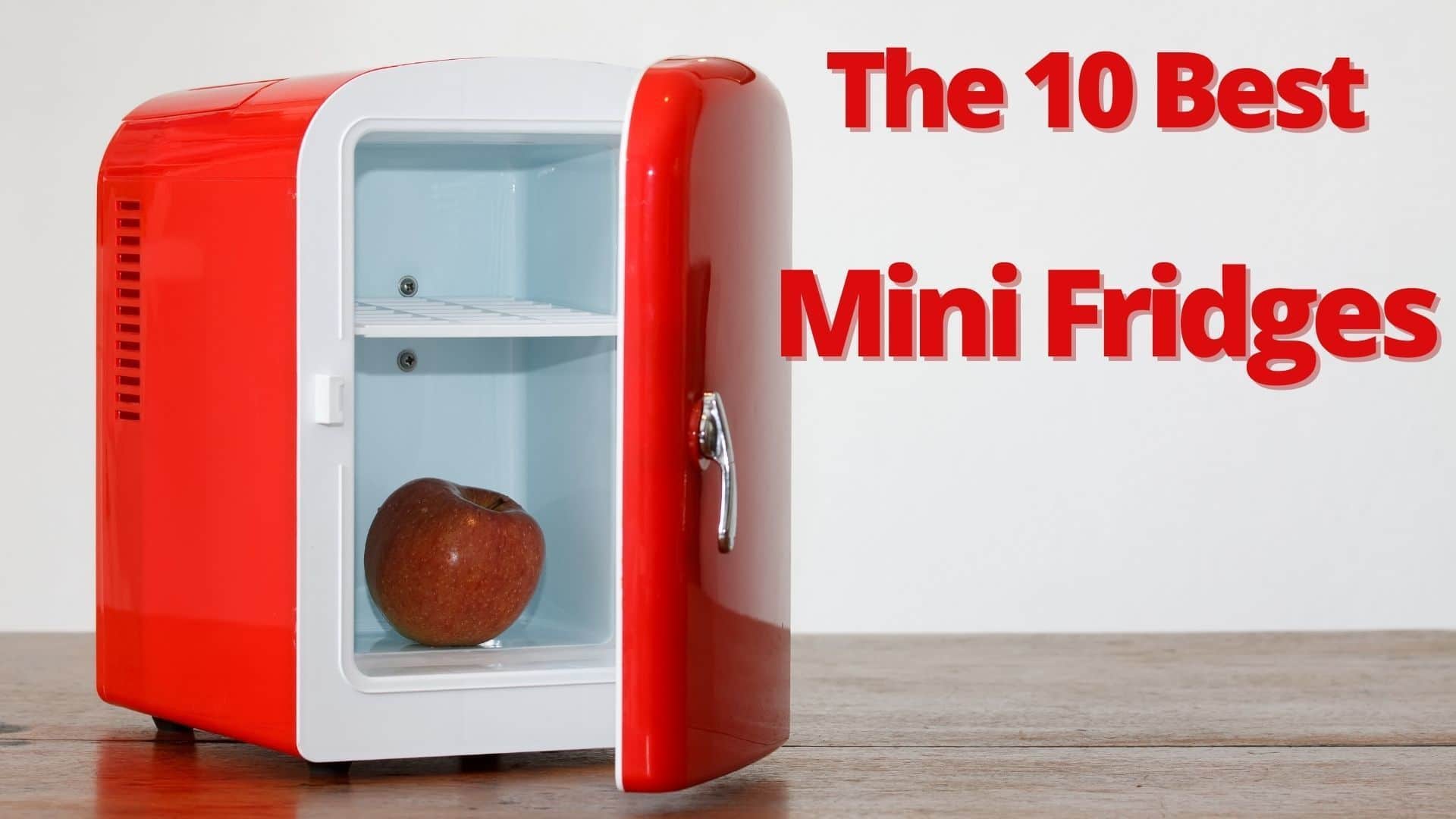 The 10 Best Mini Fridges 2020 – Cheap Small Refrigerator
The back to school season has officially started. Many college students are getting started, and even more, are going back to their classes. Dorm rooms are going to get busy. And what will you need more than anything in your dorm room? The answer is a mini fridge.
That doesn't only apply to college students, though. Are you an office worker? Then you might seriously benefit from a great mini fridge. Not only will you be able to store drinks and your cold lunch in there, but you will also be of great assistance to all your coworkers. We would all love to have that one coworker who has any drinks we want, ready to be served cold.
Then again, you might want to have a mini fridge full of refreshments right next to your PC, so that you can game without needing to get up to grab a Red Bull. 
Top 10 Best Mini Fridges
No matter who you are, a great mini fridge will be an excellent investment. That is why we would like to list the best mini fridges you can find on the market. We want you to buy the absolute best mini fridge for you. So, without further ado, let's take a look at the 10 best mini fridges you can get.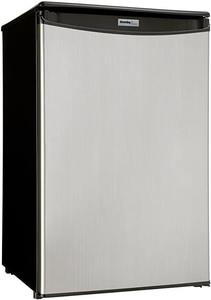 Coming in the first place, it's this fantastic mini fridge from Danby. It has almost every feature that a potential buyer should be looking for in a mini fridge.
Starting, if you decide to buy this one, you will get 4.4 cubic feet of capacity. As you can imagine, this is a lot of space. So, you will be able to fit a lot of food and drinks in it. Along with this amount of storage come two and a half shelves and a rare feature of a vegetable crisper.
You will also find eight can holders for all those beers and energy drinks and a great thermostat to control the mini fridge's temperature. It is also scratch-resistant, so you won't need to fear that it loses its great looks.
The mini fridge from Danby can fit almost anywhere. So, whether you want it for your dorm room or your office, you should be able to have space for it.
Pros
Top Notch Capacity
Scratch-Resistant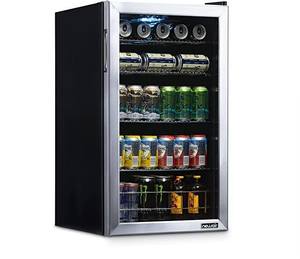 This mini fridge isn't a simple fridge. We consider it to be one of the best mini fridges because it's more than a simple fridge. As you can see from the title, it's more of a bar than a refrigerator. 
Inside this beautiful mini fridge, you will find 5 amazing chrome racks that can be adjusted or removed at any point. This way, you will be able to fit any kind of bottle easily. 
If you leave the racks as they are, you can place up to a whopping 126 cans. You will have your own drinks fridge! Who wouldn't want that? There's also a thermostat inside, that can be adjusted to seven different modes. 
We are pretty sure that you will appreciate the LED lights that shine when it's nighttime. This mini fridge is obviously targeted for home or office use. It wouldn't be such a great idea to keep it in your dorm room.
Pros
Huge Capacity
Fantastic Design
3.Best Office Mini Fridge: BLACK+DECKER BCRK25W
We mentioned that the mini fridge from NewAir could be a great addition to your office. But, this mini fridge from Black+Decker is the absolute best choice for your office.
Due to its size, it can easily fit in your office, right under your desk, especially when the main fridge is full. It comes with a freezer, so no matter what your lunch is you will be able to place it inside the mini fridge.
You will be able to also fit a 2-liter bottle (around half a gallon) and a pack of cans, so you won't need to get up to grab a drink.
This fridge also comes with an adjustable thermostat (just like most mini fridges) and adjustable legs. So, if it starts to wobble around, you can adjust the legs. Problem solved.
Pros
Comes with Freezer
Has a Great Thermostat
Cons
Stability Could be Better
4.Best Compact Mini Fridge: Uber Appliance UB-CH1
We have all heard the phrase good things come in small packages. While this saying might not have such an appropriate use, it certainly describes this mini fridge. The UB-CH1 by Uber Appliance is the best mini fridge when it comes to its size.
Not only is it small, but it also has our personal favorite design. Sporting an old-school design, this will take you back to the 60s and 70s on a whim. But that's not all.
We know, and we have already said, that fridges and mini fridges are used to keep stuff cold. But, wouldn't you want to keep a nice plate of pasta warm while you are finishing your work, or clutching that vital game? Just change the setting on the back to warm, and you are settled. No more cold food for you.
Pros
Fantastic Design
Extremely Compact
Cons
Durability Could be Better
5. Best Value For Money Mini Fridge: Midea WHD-113FSS1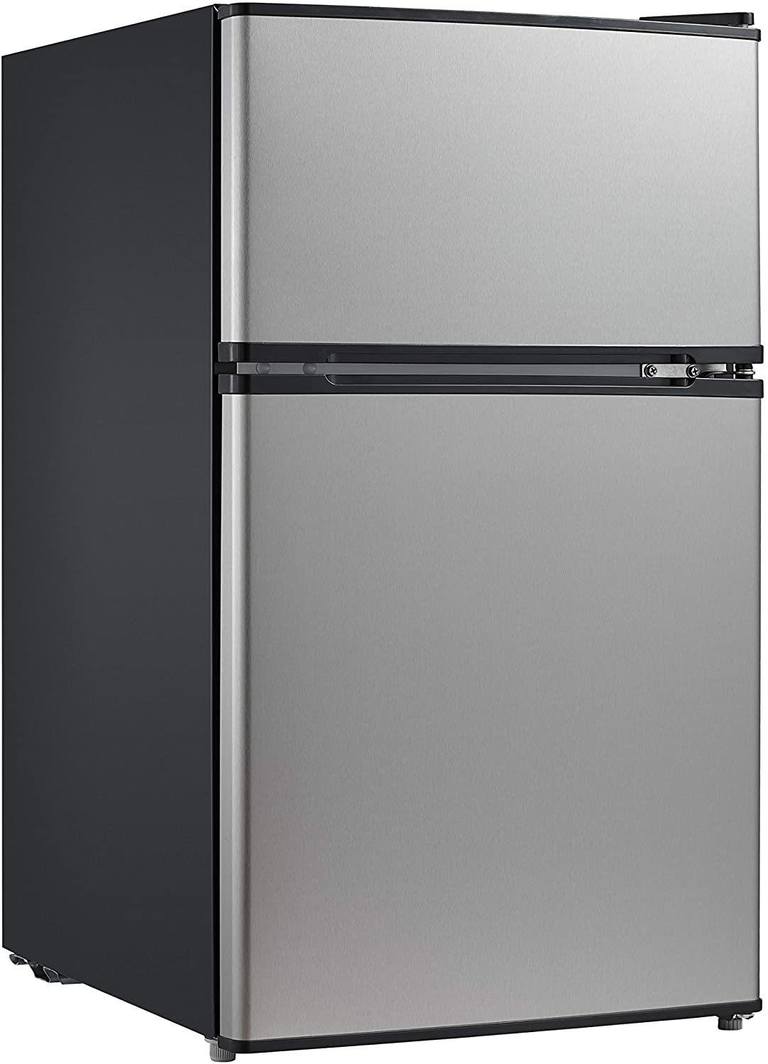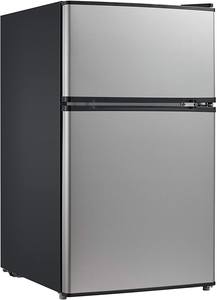 Here is another great mini fridge that's compact. You can fit it almost anywhere. Midea is known for its compact mini fridges. But, unlike the UB-CH1, this one has considerably more capacity. 
It actually has a capacity of 3.1 cubic feet. It's certainly not the largest on our list, but it is awesome for that price point. But, you might be wondering why we included this one if it's just small and has some capacity? Well, it also has a freezer. This is why it's on our list.
With this mini fridge, you will be able to fit all your drinks cold, and you can also keep some "emergency" frozen pizzas in the freezer. Or you could keep an "emergency" ice cream inside that freezer. So if any "emergencies" occur, you won't need to take any space in your actual fridge and freezer.
Pros
Excellent Value
Good Capacity
Cons
Stability Could be Better
6.Best Large Mini Fridge: Midea WHS-121LB1
Why not talk about another mini fridge from Midea? This one is larger than the one we previously mentioned. Other than their size, they are both fairly similar. This means you can enjoy the excellent features alongside an increase in capacity. 
As we said, this one is a bit larger than the previous one. The capacity is 3.3 cubic feet, so it is noticeably bigger when it comes to capacity. So you will probably be able to fit a few more drinks, or maybe a few apples and bananas for a healthy snack.
The legs on this mini fridge are fully adjustable. This means that you can fit it anywhere, and when it's wobbling, you'll be able to fix that easily. The temperature can also be controlled so that your drinks remain cold, no matter how the weather is outside.
Pros
Adjustable Thermostat
Excellent Capacity
Cons
Durability Could be Better
7.Best Cooler Warmer Combo: Cooluli Electric Mini Fridge Cooler and Warmer
Are you looking for the best mini fridge to take with you on a family camping trip? Or maybe you're looking for a small mini fridge that is similar to the one from Uber Appliance, but has a different design? Then the mini fridge from Cooluli is the one for you.
Its features are almost the same as the one from Uber Appliance we mentioned above. It comes in many different colors, which is always a plus. You can take it anywhere you decide to, due to its versatility.
Its key selling points are its thermostat, which can be changed from cold to warm, allowing for great temperature control. Something that surprised us is that this fridge can double as a place to store your skincare products. So, not only is it a fridge, but it can also become good storage for any woman out there. Amazing!
Pros
Warming Feature Works Great
Nice Compact Design
8. Great For The Office Mini Fridge: RCA RFR320
This is another great mini fridge for any office workers out there. It is made by RCA, a fairly well-known company in the mini fridge business.
The best thing about this mini fridge is that it has a stunning glossy black look. So, not only will you be able all of your food and drinks in it, but you will also be able to store them in a stylish fridge.
The capacity of the fridge is fairly average, coming in at around 3.2 cubic feet. But, it also has a freezer (that has a capacity of 0.2 cubic feet), which is really neat.
Just like every other mini fridge on our list so far, this one has an adjustable thermostat. It also features some adjustable legs, so that you can easily fix its wobbling (if there is any)
Pros
Nice Sleek Black Design
Great Adjustability
Cons
Freezer Portion Could be Bigger
9. Another Awesome Compact Mini Fridge: Midea WHS-65LSS1
Our last two mini fridges on this list are really compact. Starting off with the one from Midea, the WHS-65LSS1 is a great option for the best compact mini fridge on the market. But, it is somewhat pricey, so do keep that in mind.
Starting with some of the basic features, this fridge has a 1.6 cubic feet capacity, so you won't be able to fit too much in it, but you can certainly put all your drinks in.
You can also mechanically change the temperature, from -2 to 2 Celsius, so that's also a huge plus. This fridge also comes with a 1-year warranty, which is always good.
Pros
Great Temperature Control
Very Compact

10.Smallest Mini Fridge From BLACK+DECKER: BLACK+DECKER BCRK17B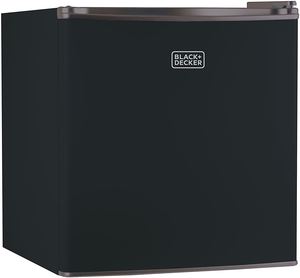 Rounding up our list is the most compact mini fridge from Black+Decker that we could find. It is a great mini fridge that has some of the key features that you should look for in one.
We will directly compare it to the Midea WHS-65LSS1 because both of them are really similar. Their main difference is their price, with BCRK17B coming in at almost half the price of the Midea one.
The capacity on this one is 1.7 cubic feet, and it comes with the rest of the features you would expect from a mini fridge, such as adjustable thermostat and legs. Many customers have pointed out that this mini fridge is also really quiet, which is awesome for all of you college students out there. You wouldn't want to be woken up in the middle of the night by your mini fridge.
Pros
Excellent Value
Very Compact Design
What To Consider When Buying A Mini Fridge
Space
Mini fridges might be called "mini" but they still come in many different sizes. As you clearly saw from our list, there are ones that are more compact, and others that are bulkier. So, you will need to think about the size of your mini fridge.
More importantly, you will need to judge how much space you will have available to place the mini fridge. If you have a tiny corner available, you should aim for more compact mini fridges, like the BLACK+DECKER BCRK17B or the Uber Appliance UB-CH1. Then again, if you have more space, you can choose any of the mini fridges we have listed, and you should still be fine.
Freezer
This one is more straightforward. Sometimes, we all want to have an ice cream from the comfort of our chair. Or we just want to have some ice-cold beer or water on a really hot day, without having to get up from our seats.
That's when a freezer becomes a necessity. If you think that you will have the same "needs" like us, then you should aim for a mini fridge that comes with a freezer.
Capacity
The capacity of your mini fridge is really important. You should always take a look at the number of shelves, and how much food and drinks these shelves can hold. This way, you will be able to know if you can fit a whole pack of energy drinks, a nice salad, or anything else you want inside the fridge.
Final Thoughts
These were some of the best mini fridges you can get on the market. Personally, we use the Danby DAR044A4BSLDD-6, because of its great features. We hope that you found the one you liked and fit your requirements.