Battery Power Garden Tools
By: John Garcia | Date Posted: November 28, 2022
For several decades, garden tools powered by gasoline engines have been the industry standard. Battery-operated tools have always been looked down upon in the professional, governmental, and consumer communities. There is a widespread misunderstanding that electric tools can't compete with the power and ease of use offered by their gasoline-powered counterparts.
However, lithium-ion and other battery developments, such as EGO's 56V ARC Lithium, have completely changed the landscape of cordless battery tools. Many people are switching from using petrol equipment because of battery power's health and safety benefits. And since many people are concerned about global warming, businesses, and municipalities should do everything possible to boost their "green" reputations.
The advantages of using gasoline-powered tools.
Professional gardeners have long relied on gasoline-powered tools for tending both public and private outdoor spaces. Professionals in the trades know they can rely on having access to their gasoline and tools whenever and wherever they need them.
Brush cutter, leaf blower, and hedge trimmer users can keep working even if their engine runs out of gas by adding more fuel as they go. Because of the downtime associated with charging a rechargeable battery, many professionals prefer to use petrol-powered tools instead.
With this much juice, even the largest lawns can get thorough mowing, and even the thickest branches won't have a chance against a chainsaw. As a result, 89% of UK council tools are gasoline-powered, consuming 600,000 liters of fuel annually.
Advantages of using battery-operated gardening tools.
Tradespeople continue to keep petrol equipment in stock thanks to their power and dependability. Still, there is a growing awareness of the need to adopt greener choices in all aspects of life.
No pollution at all
It is common knowledge that gasoline engines are quite harmful to the ecosystem. The amount of Nitric Oxide (NOx) released by a gasoline brush cutter is four times more than that of a compact automobile.
Meanwhile, there is no pollution caused by the use of battery-powered tools. Your whole energy supply is stored in rechargeable batteries, and you can even switch to a green energy tariff to reach your emission-free goal.
Superior strength
Modern Lithium batteries are extremely effective, with benefits including increased runtime and rapid recharging. Battery recycling is improving due to the increased use of power in the automotive sector. You have access to all the energy you need to get any task done at the push of a button. Although batteries need to be charged regularly, fast chargers and charging kits are widely accessible, and spare batteries may be swapped in to minimize service interruptions. Backpack Depending on the instrument and the task, a completely charged battery can last up to 8 hours.
Suppress background noise significantly.
Gas-powered tools cause a significant amount of unwanted noise in the environment. Although workers in the trades and arborists wear ear protection, the noise is nonetheless audible to nearby residents and passers-by. In contrast, a battery-powered tool complies with European Noise Regulations and can be used in sensitive areas such as hospitals, schools, and tourist destinations without causing any disruption.
Conclusion
Accidents involving gasoline-powered instruments are getting increased attention from health and safety groups. The health risks and financial burdens associated with using machinery with excessive noise, harmful emissions, or vibrations that might cause permanent muscle and vascular damage are significant for both workers and their employers.
It's also important to have gas available on-site so that tools can be refilled as needed and transported there. Customers could be dissatisfied if fuel leaks occur not only before but also while working on a job site. These risks are not a problem when using a battery-powered tool.
Best 5 Products of Battery Power Garden Tools
Turner Tools Petrol Brush Cutter with Tiller and Paddy Attachments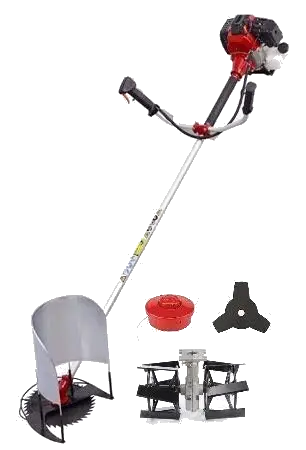 Specification
BrandTurner: Tools
Power Source: Gas Powered
Color: RED
Genuine gasoline-powered brush cutter that also features tiller and paddy attachments. Both land and labor are essential to efficiency. In recent years, there has been a rise in the number of gardening tools that are powered by batteries. This is owing to the numerous benefits that battery power offers compared to more conventional forms of power, such as gasoline or diesel. Garden equipment that is driven by batteries is much less noisy than their gasoline or diesel-powered equivalents, and they also weigh significantly less.
In addition, tools for the garden powered by batteries are far less harmful to the environment.
Conclusion
In conclusion, battery-powered gardening tools are an excellent option for individuals who are looking for an effective and friendly environment method of gardening. Battery-powered garden tools come in various designs, can be purchased at various pricing points, and come in wide distinct varieties. They are gaining more and more popularity due to their increased effectiveness and reduced environmental impact. If you are in the market for some new gardening equipment, battery power is an excellent choice to take into consideration.
Pros
The desired level of quality achieved
Weeder tools
Cons
A product that is damaged
Beginning to give problems and not functioning properly
Cheston Electric Chainsaw Bracket Adapter Set for Angle Grinder Machine Woodworking Tool
Specification
Brand: CHESTON
Power Source: Corded Electric
Item Weight: 1390 Grams
Featured aspects include the fact that this chain saw bracket set utilizes the 100mm(4 ") right-angle grinder, and the grinder itself is not a part of this product. The power that it receives from the input depends on your own 100mm(4 ") angle grinder. Thus the quantity cannot be determined with certainty. A handle made of plastic makes it very easy to transport. Sawing safely will help you get more done in less time and increase the effectiveness of your work. The chain interval comes equipped with counter-attack shrapnel and a guiding oil hole, both of which make the employment of the weapon safer. These saw chains are an enhanced variant of the titan saw chain and are chains used in semi-professional sawing applications. When you want to tighten or loosen the chain, first you need to loosen the hex screws on the blackboard, and then you could loosen or tighten the cheek screw with the screwdriver bit. When you feel the chain is suitable for your work, you could fix the hex screw again and then use the chain saw., Usage: When you want to tighten or loosen the chain, first you need to loosen the hex screws on the blackboard, and then you could loosen the Specification: 11.5-inch woodworking chainsaw repair kit's product name is a steel guide bar, and it made of steel. 
Conclusion
The oil can is unreliable because the hole that allows oil to flow through it can become clogged by debris made of wood. Therefore, applying the oil topically every five minutes while using the tool is preferable. The second thing that must be done before each start is to examine the chain tension. Otherwise, the chain will come off, which has the potential to damage the black plastic jacket. In order to strengthen it, I bent some steel strips and then hot-glued it to the reverse side of a plastic jacket. When the first switch was turned on, an internal plastic portion of the switch itself was cut. This was due to the poor placement of the hex bolt holes on the black jacket, which caused the back of the jacket to be in close proximity to the chain. 
No products found.
Pros
Simply need more time spent practicing
A really practical acquisition.
Cons
Still unable to make use of the product that was purchased
The gear doesn't work together.
PROFESSIONAL Tools and Hardware 12″ Chain Saw Attachment for 4 Inch Angle Grinder
Specification
Brand:  PROFESSIONAL
Power Source: Corded Electric
Horsepower: 250 Watts
This Chain, Saw Bracket Set, is Designed to Fit 100mm Angle Grinders. Specifications Material of the Guide Bar: Spring Steel Chain Material: High Carbon Steel Dimensions of the Guide Bar: Approximately 34 centimeters in Length and 6 centimeters in Width Chain has a total of 22 links and is approximately 82 centimeters in circumference. The chain is approximately 4.7 millimeters thick, and there are 45 drive links in total. Bracket Overall Length: About 39 centimeters Wood Cutting Diameter (Depth): About 28 centimeters Handle Height: Approximately 18 centimeters When Protective Cover Is Added.
Conclusion
The included instruction booklet could have been of higher quality. It took very little time but was effective; it saved me from purchasing a chainsaw. The chain direction is not specified, and whenever I used the chain saw and stopped the grinder, the chain would come out. After I reversed the chain, the saw functioned normally, and I could chop more than a dozen sections of tree trunks ranging in size from medium to small.
No products found.
Pros
It is designed to be used in conjunction with angle grinding machines.
It is effective, and the product is well worth the cost.
Cons
The lowest standards for plastic and rubber
It is not friendly to users in any way.
JPT Water Filter Pressure Washer Accessory For JPT, Bosch, StarQ, Resqtech
Specification
Protecting your pressure washer and making it last longer by adding this water filter attachment from the AQT range is the purpose behind its design. This attaches to the water input of the AQT and removes pollutants from the water source that is being brought in, all while allowing for visual inspection thanks to the transparent plastic. The addition of protection enhances the product's useful life and makes it much simpler to remove and clean.
Conclusion
The water filter pressure washer accessory offered by JPT is an excellent choice for maintaining the peak operating condition of your JPT, Bosch, StarQ, or Resqtech pressure washer. Because the water that is used in your pressure washer is now free of contaminants, thanks to this accessory, you may feel confident in using it. The water filter pressure washer accessory that JPT offers is an important component in maintaining the optimal condition of your pressure washer. When it comes to maintaining the cleanliness of your pressure washer, the JPT Water Filter Pressure Washer Accessory is an excellent investment. It is simple to set up and utilize, and it filters out contaminants in the water, making it suitable for use in your pressure washer despite the fact that it is not difficult to set up.
No products found.
Pros
Excellent quality
It was a perfect match.
Cons
The Karcher K1 automobile washing machine does not fit.
Good, however, the price is quite steep.
Boston 2 Line Bump Feed Strimmer Trimmer Brush Cutter f/Brushcutter Head
Specification
Brand: Boston
Power Source: Gas Powered
Color: Black
The Boston 2-line bump feed strimmer trimmer brush cutter is a tool that has a wide range of applications and may be utilized for a variety of jobs. The brush cutter head is suitable for cutting grass and brush, while the strimmer head is good for edging and trimming around obstacles. Both heads may be interchanged on the same machine. A debris shield is included with the purchase of the Boston 2-line bump feed strimmer trimmer brush cutter so that you may protect yourself from any flying debris.
Conclusion
It can be used to cut grass and weeds for usage in an area dominated by stone. This tap-and-go model is compatible with a wide variety of brush cutters, including those manufactured by Honda, Kisan Kraft, Mitsubishi jp45, Cub Cadet, and others. Resistant to the elements, with a weight of 350 g. When the Tap and Go are going at a high RPM, it should avoid coming into contact with stones because this might cause damage to its body. 
No products found.
Pros
Very great stuff
Superb effort
Cons
Dismally low standard. It pops open on the job.
It's nearly impossible to open the package because the plastic is so rigid.
Thank you for reading!