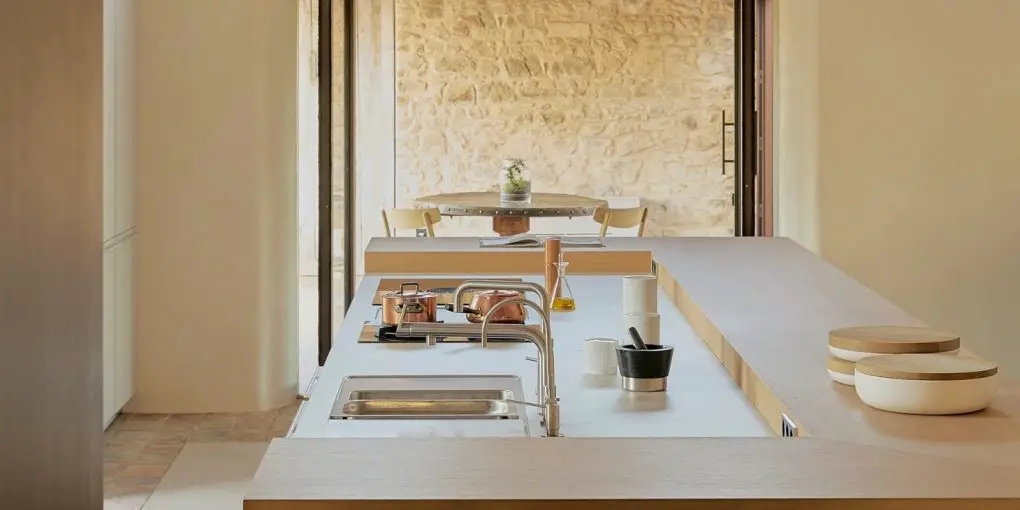 Trends in Sustainable Kitchens
What are trends in sustainable kitchens? The green building and interior design industries are going from strength to strength, with the global green building materials market alone expected to reach $433 billion by 2024. Recent world events have strengthened the human connection, with many seeking to incorporate natural elements in their home while also reducing their carbon footprint through their choice of building materials, furniture, energy, and décor. Kitchens are arguably one of American homes' most important meeting points – a place where family members usually gather for at least one meal a day and take part in the preparation and enjoyment of meals. If you think it's time for a renovation of this space and you'd like to ensure you are doing your share for the Planet, the following sustainable kitchen trends will be right up your street.
Green Appliances
If you are renovating your kitchen, you may have appliances you want to hold onto – particularly more expensive appliances such as dishwashers, ovens, and refrigerators. However, if appliances aren't working optimally or they are over 10 or 15 years old, they may be expensive to repair and detrimental to the environment (since older appliances were not as energy-efficient as new ones are). It might be time to upgrade old appliances if you wish to adhere to ENERGY STAR standards. The latter is essentially a certification that certifies that an appliance uses less energy. For instance, a typical ENERGY STAR-approved fridge uses 33% less energy than old models without this certification. A certified fridge will also enable you to avoid around 411 lbs of carbon pollution from entering the atmosphere over a nine-year period. The list of appliances you may wish to consider replacing includes washers and dryers, dishwashers, and microwave ovens.
Getting Rid of Old Appliances
The UN Environmental Program reports that around 53.6 million tonnes of electronic waste were generated in 2020. Therefore, consider that when you replace your old appliances, you could be contributing to this problem. Avoid dumping appliances that work. Instead, sell them online on a site or social media site covering secondhand items, give them away, or avail of any recycling programs being offered in your city.
Eco-Friendly Flooring
When choosing your new flooring, make sure that durability is as big a priority as sustainability. Century-old homes often have impeccable wooden floors despite the passage of time and because the flooring can be one of the biggest expenses involved in kitchen renovation, making the right choice in terms of materials is vital. Choose Forest Stewardship Council (FSC)-certified wood that has been harvested responsibly. If possible, opt for sustainable wood that has been harvested locally to cut down on transport-related carbon emissions. Finally, opt for hard, top quality wood that will stand the test of time. Other sustainable materials to consider include linoleum, cork, natural stone, and bamboo.
Sustainable Countertops and Splashbacks
Many modern materials used for countertops (such as granite) are commonly transported over long distances and are non-renewable. Countertops and islands are a vital component of kitchen design but there is no reason why they cannot be environmentally friendly as well. Just a few interesting brands making waves in sustainable countertop design include Silestone, Dekton, and Teragren. The latter makes countertops out of Moso – a hard, dense fiber made of bamboo. These countertops are carbon-negative (because bamboo captures carbon) and they are shipped via ocean and rail. Dekton's countertops are made from a combination of raw materials such as quartz, porcelain, and glass. Their products are highly resistant and available in a host of beautiful colors and designs. Finally, Silestone's collection, Sunlit Days, is manufactured with 100% renewable energy, 99% reused water, and a minimum of 20% recycled raw materials.
Biophilic Kitchens
Biophilic design – which seeks to blur the distinction between indoor and outdoor living – can also be seen as a component of sustainability, because features such as green spaces, water features, natural materials, and an abundance of plants can help reduce one's carbon footprint. By using natural materials for kitchen furniture and flooring and bringing a few plants indoors you can create a new environment that is aesthetically satisfying and ecologically sound. Hang them from the ceiling, place them in designer on the floor or buy a few cute mini pots for shelf decoration. Additional features to consider are glazed backsplashes (which can open the view to the outdoors while also being easy to clean), raw countertops (to add a tactical element to the cooking and cleaning experiences), and a small indoor herb garden with chives, mint, parsley, basil, cilantro, lemongrass, oregano, or thyme.
Sustainable Ceilings
Beautifully worked ceilings can add an artistic, welcoming air to your kitchen. The use of wooden beams, planking, boxed beams, and ceramic tiles can all add to the visual appeal of this space. Consider embellishing your kitchen with reclaimed wood, recycled tiles, or eco-friendly wallpaper. Some wallpaper manufacturers make FSC-certified paper that is sourced from sustainable forests and made in small batches. Water-based, low-VOC paint is used and materials do not contain animal derivatives.
Green Lighting
If your kitchen faces an outside space, consider knocking down a wall or two to either increase the size of your windows or replace a wall entirely with sliding glass doors or wall-to-ceiling glass. Doing so will reduce your electrical expense while also enabling your family to avail of the many health benefits of natural light. Use different lights depending on the time of day. Recessed lights in the ceiling and on top of furniture like cabinets can brighten up your space without the need for more powerful bulbs. Task lights can be incorporated into your space via pendant lights, which can hang over islands or other workspaces. Finally, accent lighting can be used for pure embellishment. Aim to use only as much light as you need, opting for lighting that can be dimmed to reduce your electricity expenditure.
Trends in Sustainable Kitchens
Sustainability is the buzzword in architecture and interior design. Just a few trends taking over kitchen design, in particular, include eco-friendly flooring, countertops, and appliances. Biophilic design is also making its presence felt, as is the new value given to natural lighting and energy savings in electricity.
Thank you for reading!