12 Living Room Wall Decorating Ideas 2021
When it comes to decorating a home or making some changes to it, everyone has different ideas and preferences according to their convenience. Each house has separate areas like kitchen, living room, bedroom, etc., and every aspect needs a particular type of décor according to the requirements.
You cannot décor the bedroom the way you would decorate the living room. You can search for different latest décor styles on the Internet and adopt them in your home. You can also add a personal touch to the decor. If you wish to give a unique or traditional touch to your home according to your culture or personal taste, you would love to spend more time in your home. 
Here, in this article, we will discuss how to décor your living room walls to make them look way more cozy and beautiful. The living room must be comfortable and luxurious to look more attractive. The living room shows the personality of the person who works on its décor. You can convert your ordinary living room into a modern, cozy, and desired living room with some simple techniques and decor.
Here we will emphasize wall décor because walls play a vital role in transforming any room, especially the living room. This blog is sure to help you decorate your living room to look more stylish and attract more guests.
1. Texture walls
Texture walls finishing make the room look more warm and creative. You can paint your living room walls with different textures to give them a more sophisticated look. Also, you can hang texture fabrics on walls like fabric pieces in frames. If the wall is in one color, you can hang texture fabrics; in contrast, like on baby pink walls, different pink and green shades will give a stylish appearance.
2. Abstract décor on the wall
Abstract art provides a wide range of options to choose from to give your living room the best look. You can select anything ranging from culture to personal choice and enhance the look of your living room. Women love to collect abstract objects and pieces and add them to their living rooms to make them more versatile. You can choose art pieces to hang on walls or different fabrics like cushions or mats to add to your living room. With the help of abstract decor, you can transform the casual living room into a formal one. 
3. Décor walls with curtains
Choose natural color curtains to give your living room a spacious appearance. Place plants outside the window and place artificial plants inside with the curtains to make the wall look graceful. Layers of curtains can give a luxurious look to your living room. You can also place lamps beside the curtains.
4. Use wallpapers
Wallpapers add a layered look to the living room, transforming a primary district into a striking region with exuberant tones and surfaces. Wallpapers can be utilized to make a staggering center locale in little parlors or add character and profundity to a conventional lounge room with a high roof.
5. Use shelves to decor walls
It bodes well to show books on a skimming rack. Alongside that vanity, coasting shelves additionally loan a fascinating character to clear dividers than the black walls. Also, it makes your home look refined and elegant to an outsider. A formal look makes your walls look more cultural and decent.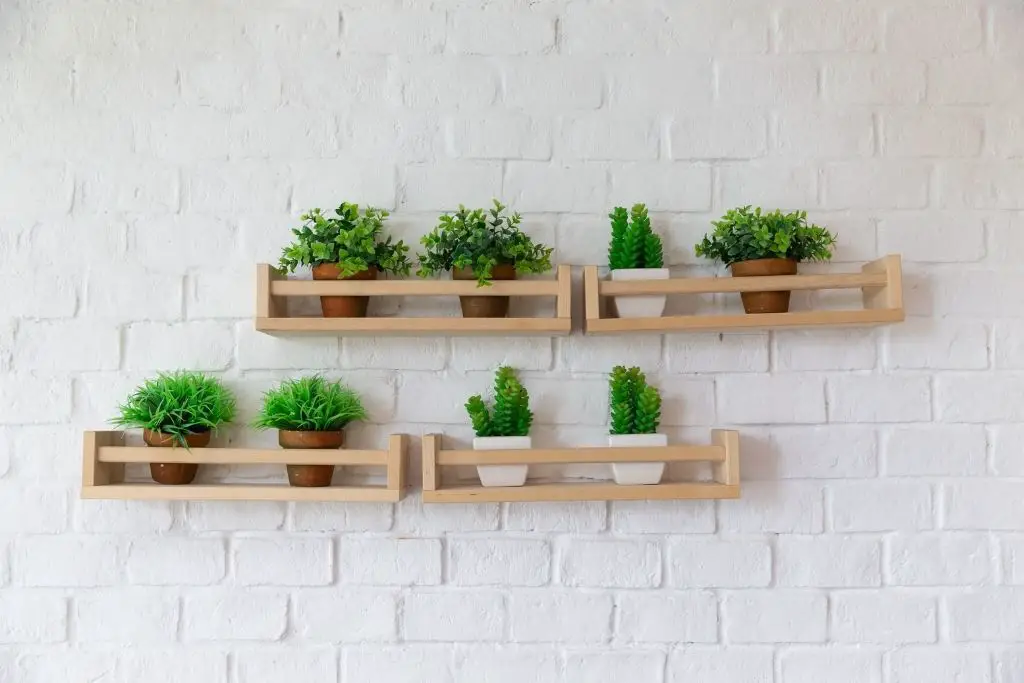 6. Hang large artwork on walls
Artistry, without a doubt, stands out. Leave an enormous composition alone as the focal point of one of your lounge walls, and watch its attraction towards your guests. You can pick abstract art, a different canvas, or go for moderate, highly contrasting photos, totally up to you. Hanging artwork on each wall is beautiful.
7. Add artistic corners
Rather than pondering additional style, you can add to your walls an aesthetic corner with decoration pieces with a calming backdrop. This way, you will make an imaginative corner; however, your family room's specific mass will amp up quickly. This stylistic layout thought turns out phenomenal for small rooms.
8. Metal or brass items to style the living room
Brass and metal items are the two most downplayed stylistic theme materials that can rapidly transform dull lounge walls into an artistic ones. Pick a mitigating shading palette for the equivalent as indicated by your living room's shading plan, and perceive how it revives the vibe of life and joy. Every small detail matters, even door handles. Check out brushed nickel door handles to add metal items.
9. Use sculptures with light
Instead of using lamps on walls or side tables, use sculptures with light in the living room to present an elegant look. Pick an eye-catching sculpture that serves as wall decor to add both light and style to the living room. 
10. Keep living room walls near nature
Plants are not merely supposed to sit on the windowsill only. Bring them inside and hang them on the living room walls to present a sense of being close to nature.
11. Use timekeepers and oversize calendar on walls
An enormous schedule functions admirably on any wall of the home or office. Monitor your functions while additionally adding a champion component to breathe life into your room. Add a brilliant and intense calendar with your favorite text styles to your living room and present a refined look. The calendars of timepieces will make your walls look more stylish and eye-catching.
12. Hang a mirror on the wall
The best use of mirrors is that you can utilize them for many purposes beautifully. Additionally, they mirror light so well that your lounge begins looking more extensive than it is. You may pick any size mirror and add it to your living room to make it look luxurious. You can also hang mirrors on the walls with light lamps to create an aesthetic look.
Thank you for reading!