10 Creative Ways to Use Rugs as Statement Pieces in Your Home
When talking about statement pieces for your home, what comes to mind first? Usually, people tend to think about fancy couches, huge wall art, and expensive vintage cabinets.
But what if we told you that the right rug, placed in the right spot, can transform any room into a unique, personalized space? If you're curious to know how you can achieve this, then read on.
We will reveal to you not one but ten awesome ways to style your home with rugs.
1. Hang Your Rug on the Wall
Do you have a room in your house with bare walls that scream, "Decorate me, please!"? If so, then why not try to style them with a gorgeous rug?
Yes, it may sound a bit of a bizarre choice, but there's more to wall art than paintings and framed photos. Choose a style, pattern, and color that match your room, and you'll have a unique, original piece that is sure to wow your guests.
2. Use It as a Bedspread
On the topic of using rugs in creative ways, why don't you swap that old, dull throw on your bed with a colorful, soft rug?
Using a rug as a bedspread can truly bring your bedroom to the next level. It can allow you to transform a room that's typically kept quite sober into a beautiful, visually appealing space.
Who would have thought, right?
3. Drape It Over Your Couch
Another creative way to style a rug is to drape it over a couch or armchair gently. Normally, you would have a blanket or throw, but you can achieve a much more interesting and eye-catching result with a rug.
You'll want to choose a thin, easily foldable rug, but everything else is entirely up to you: size, style, and color. And, precisely because it's a rug, you can lay it out flat on the floor on those winter evenings so that you can get cozy by the fire with a cup of hot chocolate.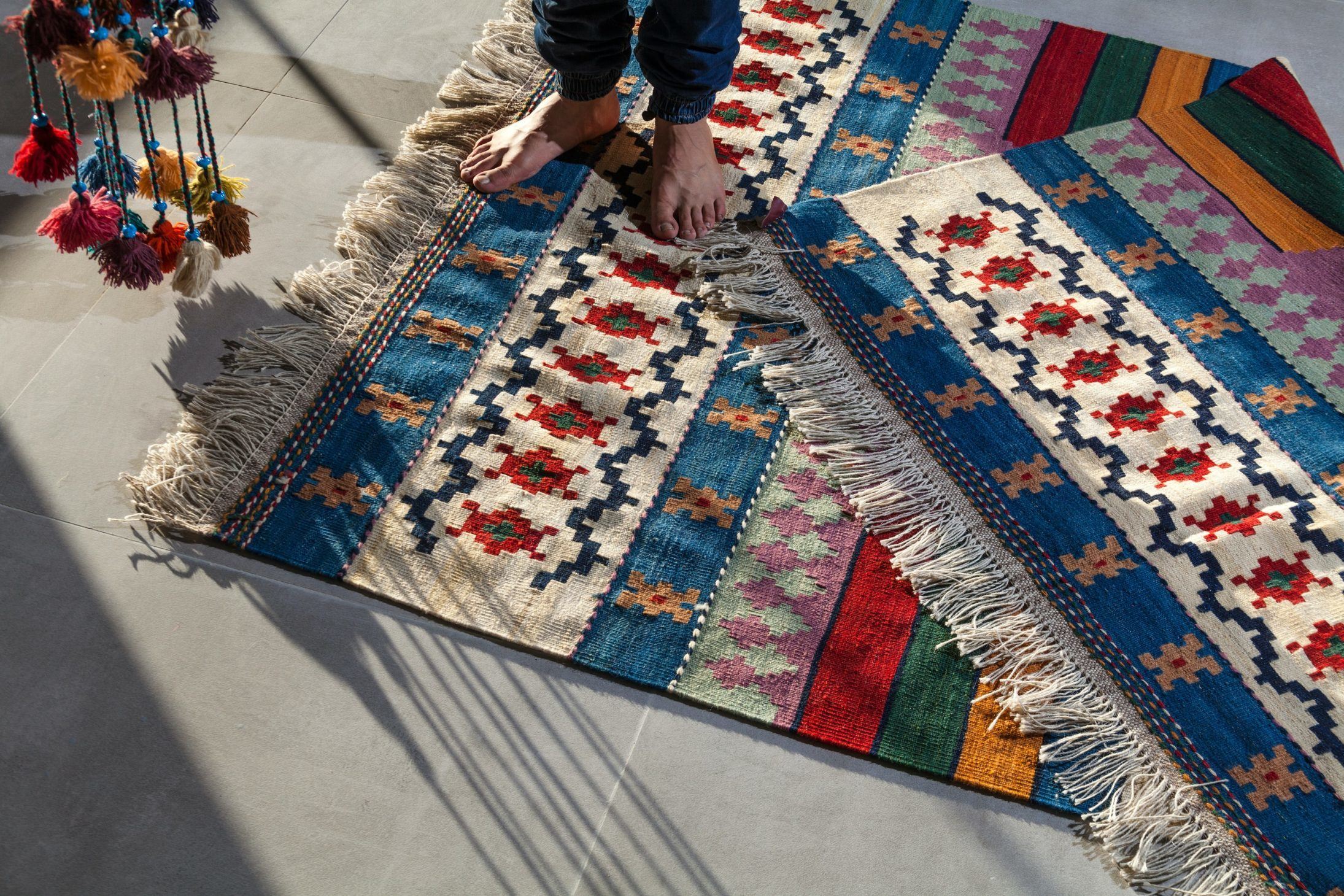 4. Make It the Centerpiece of a Room
Like Jeff Bridges' character in "Big Lebowski" said, the right rug can really tie a room together. Rugs, if chosen and placed in a thoughtful, strategic way, can become instant statement pieces and give your space a neater, more coherent look.
Buy a rug that stands out without necessarily diverting the attention from any other stunning item of furniture. The perfect rug to become the centerpiece of a room is one that delivers a warming, welcoming, and homely vibe while at the same time bringing out the rest of the decor.
5. Layer Multiple Rugs
If you're into jewelry, you might be familiar with the practice of layering different types, styles, and lengths of necklaces, bracelets, and even rings. Well, what if we told you that you could do the same with rugs?
Do you have your eyes set on three beautiful rugs that would go great in your lounge, but can't pick one? There's no need to: get all three and create a textured, attractive look by layering one on top of the other.
6. Use Rugs Outdoors
Are you lucky enough to have a conservatory or sunroom in your house? Great, then why not add a touch of style with a beautiful rug?
Make this a way to connect the heart of your home with your outdoor space, whether it be a large garden or a tiny patio. Your rug will offer a cozy, homely vibe to a room that's flooded with sunlight and surrounded by nature.
7. Use Small Rugs as Entry Mats
A great way to make a statement right from the moment you step foot into your front door is to ditch the ordinary doormat and replace it with a small, funky rug.
You can either go traditional with a Persian style or more modern with contemporary prints and flashy colors.
It might not be as practical to wipe your shoes on, but the stylish, unique vibe you will achieve is worth it.
8. Mix Sizes, Shapes, and Styles
If you're looking for a truly creative effect, then one of the best options is to mix and match rugs.
Unleash your imagination: pick rugs of different shapes, sizes, colors, patterns, and styles, and add them to the same room.
But, because the result will, of course, be quite bold, be sure to choose a room that's not too decorated or colorful. Mixing rugs can work brilliantly in a study room, conservatory, or music room.
9. Jazz up a Neutral Room
If you have a room in your house that you've always wanted to decorate and bring to life but never quite known how to, then you should consider adding a rug.
With a neutral space, you can be as daring as you like. Add a pop of color or some texture, layer up rugs of different sizes to create contrast and depth, or pick a vintage piece for a more old-fashioned allure.
10. Or Tone Down a More Eclectic One
While a rug can work wonders to dress up a previously bare room, it can also do the opposite. Have you got a room in your house that's already quite colorful and bold?
Adding the right rug will make it feel a bit less messy and a bit more put together.

Try neutral colors and patterns like stripes or chevrons, but banish anything too fanciful or complex.
A simple but stylish rug will Bring some coziness and harmony back into your "crazy" room.
Rugs as Statement Pieces for Your Home? Yes, Please
The potential of rugs as statement pieces for any room of your home is truly boundless. Whether you are a sucker for a striking, eclectic style, or if you're more of a low-key kind of person, there's a rug out there that's perfect for you.
And once you've found it, you can use it in so many creative ways to style your home so that it truly reflects your personality and lifestyle. Pretty cool, right?
If you liked this article, then why not head over to our website? We have a ton of awesome content on home improvement that's sure to inspire you!
Thank you for reading!