How to make house smell good
By: John | Date Posted: November 11, 2022
Smell is often called humans' most powerful sense, and scents tell us a lot about the world from what we should eat to even whom we should kiss. When it comes to our homes, if a space smells fresh, that's a great sign. If the smell is bad? We feel uneasy.
Best 5 products to make house smell good 
All homes have a smell. But some homes smell better (or, let's be honest, worse) than others. And if you're worried your home might not fall in the better category, don't worry. There are millions of ways to tackle weird house smells. And don't be ashamed. Your house smell isn't your fault. (Although it might be your pet's fault.) Afterall, your home is (probably) way older than you are. It's seen a lot of tenants, hosted a lot of meals and weathered a lot of toilet flushes.
The coziest homes smell amazing the second you walk into them. Even though you might think your home is cozy, you might be nose blind to the smells that have accumulated. After you vacuum and dust there can still be lingering smells and knowing how to get rid of fish smells and how to clean smelly shoes can really come in handy to make sure those unpleasant odors are gone for good. Also, if you have a furry friend running around, you're probably all too familiar with the products that help with pet odor removal. Getting the dreaded dog smell and cat smell out of your home can be tough, but these tricks will help with that.
Tips to make your kitchen smell good
Kitchen smells are fluid. Their smell literally depends on what's cookin' (or what's brewing, what's been spilled, what's sitting in the sink, what's rotting in the trash can, etc., etc.). But there are lots of little tweaks and adjustments you can make in your kitchen to neutralize and freshen up its baseline smell. (Hint: Most of them revolve around drains and pipes.)
If there's a foul smell coming from your kitchen, sniff around your dishwasher. Though it may seem counterintuitive, your dishwasher needs to be cleaned occasionally. Follow your dishwasher's cleaning instructions in the manual or read this article for step-by-step dishwasher odor eliminating directions.
Put a small bowl of coffee grounds in the fridge or freezer to absorb the stink from last week's leftovers.

Just be sure to clean out your fridge, too

. No amount of coffee grounds can combat rotting seafood.
If you don't have coffee on hand (or just hate the smell of coffee), place a cotton ball soaked with vanilla extract in the fridge or freezer.
Grind up citrus peels in your garbage disposal. Not only will this clean out your disposal, it'll also send delicious citrus scents wafting through your kitchen. Plus, this tip will also help you get your daily allotment of vitamin C when you eat the leftover fruit.
If you don't have a garbage disposal but still want to get rid of the smells coming from your sink, consider pouring boiling water down the drain. To save time and water, do this with the left-over water in the kettle after you brew a cup of tea.
Simmer aromatic ingredients on the stove. You can throw herbs, spices, and citrus peels in water OR with a little more planning, make some masala chai or mulled cider so you have something warm and cozy to sip on.
Bake spices in the oven at a low temperature. Not only will this make your home smell heavenly, toasting the spices makes them taste nuttier and richer, improving your baking.
Sprinkle baking soda in your trashcan. Baking soda is a cost-effective way to neutralize all those foul smells coming from that corner of your kitchen.
Godrej aer Matic Kit – Automatic Air Freshener with Flexi Control | Violet Valley Bloom (225ml)
Specification
Scent: Violet Valley Bloom
Brand: Godrej aer
Presenting aer matic by Godrej – a range of automatic air fragrance diffusers, available in four designer fragrances. By designer, we mean they smell just as great as they look. All this with a flexi-control timer that sprays every 10, 20 or 40 minutes, allowing you to control fragrance intensity. With it's killer looks, our automated air freshner is sure to adorn your interior spaces and works perfectly, be it your living room, bedroom or office spaces. It can easily be wall mounted, with the provided mounting hole at the back, or can be placed on a shelf with the inbuilt stand.
Conclusion
At the end of its cycle, you need to replace the air freshener refill unit with any of our 4 designer fragrances – violet valley bloom, fresh, lush green, petal crush pink and cool surf blue.
Pros
This is a perfect accessory for your living room, bedroom or even your bathroom.
Very good product it's working automatically and perfectly no need to moniter every Time.
Cons
 It's not even a month and this product is spraying continuously within seconds.
Soul & Scents Home Fragrance Jasmine Reed Diffuser Set | Toxin-Free | Fine-Living Fragrance | Aromatherapy | Mood Enhancer | Made in India – 120ml with 6 Reed Sticks
Specification
Model Name: JASMINE REED DIFFUSER
Colour: Transparent
Brand:  Soul & Scents
Unbottle our tantalising aromas and fill your home with the most beautiful notes of mesmerizing French Lavender and feel the refreshment at home. These subtle but luxurious fragrances will indulge your senses and fill up each nook and cranny of your sacred space. Unseal the glass bottles, insert the reed sticks, give some time to reeds to soak and evaporate the fragrance and than enjoy the best aroma of reed difffuser. Remove the cap of the bottle and plastic plug and keep it in up right position. Insert the reed sticks into the bottle. Increase or decrease the reed stick quantity to adjust fragrance.
Conclusion
To make a reed diffuser smell stronger, try adding more diffuser sticks. 6. Make it a habit of regularly flipping the diffuser sticks. At least once a week is needed to draw out more oil up the reeds.
Pros
Fragrance is very good. Value for money.
Soft pleasing and long lasting fragrance.
Cons
Smells nothing like Vanilla, both when I sniff the bottle as well as in the room when diffused.
Godrej Aer Power Pocket | Air Freshener – Bathroom and Toilet | Lasts Up to 30 days | Assorted Pack of 5 (50g)
Specification
Scent:Floral
Colour: Multicolour
Brand: Godrej Ezee
Each unit of Godrej aer pocket lasts upto 3-4 weeks. Simply unwrap each unit and hang it in your bathroom with the hook provided. Our unique power gel technology ensures the fragrance reaches every corner of your bathroom. Godrej aer pocket ensures a refreshing fragrance every-time you step into your bathroom.
Conclusion
Simply unwrap each unit and hang it in the bathroom. Each bathroom freshener pack lasts upto 3-4 weeks. Ensures the fragrance reaches every corner of the bathroom. Removes unwanted smell and ensures a refreshing fragrance in your bathroom at all times.
Pros
The best way to keep the fragrance last longer is to not take the sachet out of each packets.
The scent spreads evenly.
Cons
Doesn't even last for 3 days.
Godrej aer spray, Air Freshener for Home & Office – Cool Surf Blue | Long-Lasting Fragrance (220/240 ml)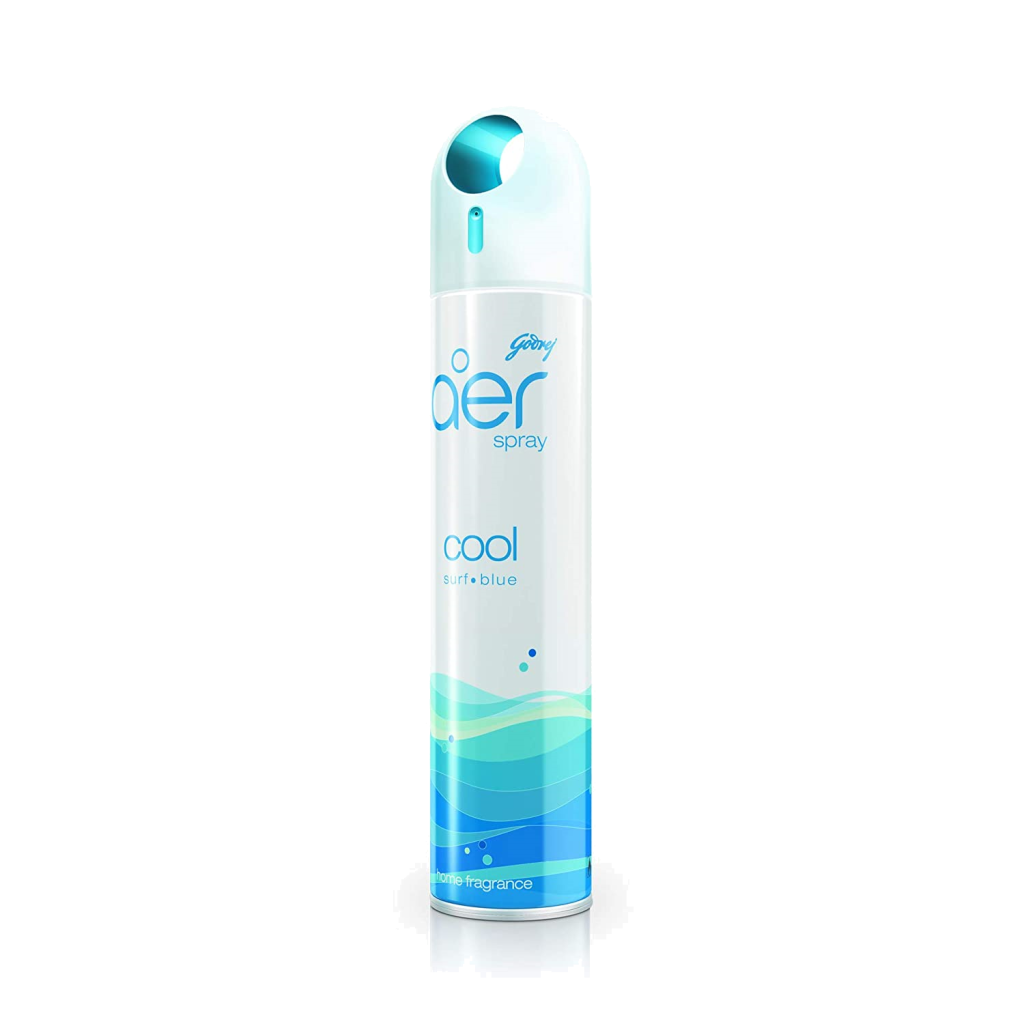 Specification
Scent: Floral
Colour: Green
Brand: LIONSPIRE ENTERPRISE
Room freshener Spray (240 ml). Variant – Fresh Lush Green & Morning Misty Meadows. Fresh Lush Green Inspired by the fresh green grass and lavender fields & Morning Misty Meadows Inspired by jasmines and lilies. Easy push and spray mechanism designed for convenience. Makes every surface smell amazing for long. Bedroom, Living Room, Workspaces and Public Spaces. Exquisitely designed room freshener to adorn the living spaces.
Conclusion
 In a room spray, you can spray a bit and it will last for a day. However, room spray aromas usually last for 1-3 days when sprayed in the air. When sprayed on fabrics or bedding, the scent can last up to a few weeks.
Pros
This has a very refreshing fragrance. 
It's just perfect with smell and longevity. 
Cons
The smell is fresh but doesn't last long not even 1 hr.
Just spray a little as excess can cause breathing issue.
AIR-ROMA Lemon Grass Air Freshener Spray 200ml
Specification
Scent: Lemongrass
Colour: Light Yellow
Brand: AIR-ROMA
Lemon Grass Air Freshener Spray 200 ml. Long-lasting natural smelling home fragrances that can be sprayed as a room freshener in all spaces (e.g. living room, bedrooms, bathroom, dinning room, kitchen, wardrobes, shoe racks etc.)
Can also be used as a bathroom freshener, or in cars and office spaces. For best results use it on fabrics like: curtains, sofa, carpets, blinds, bedsheets, pillow, blanket, towels, etc.). Offers a fine selection of nature-inspired scents to keep your home fresh and fragrant.
Conclusion
Air fresheners are designed to impart an aroma to the air environment or to mask odors, with the intent of creating a pleasing indoor space. However, despite the intent, air fresheners can emit and generate a range of potentially hazardous air pollutants that can impair air quality.
Pros
The fragrance is nice & refreshing and also long-lasting.
The lemon grass aroma is very refreshing and smells great.
Cons
It's more like an artificial lemonade smell and disappears within a few minutes of spraying.
Best 5 products to make house smell good 
Thank you for reading!