Outdoor Seating Area Ideas
By: John Garcia | Date Posted: October 28, 2022
Like the vast majority of people, you undoubtedly find time spent in nature to be refreshing and rejuvenating.
Spending time in nature has numerous positive effects on one's health, including exposure to natural light and fresh air, as well as the chance to get some exercise and vitamin D. On the other hand, it's not always easy to locate an optimal outdoor setting.
Constructing your own outdoor seating area is one viable option. An excellent way to unwind and appreciate nature without leaving home.
It's also a great thing to have around the house. We have gathered a collection of outdoor seating area ideas to help you get started. We have ideas to suit you no matter the size of your outside space, from a little apartment balcony to a sprawling estate yard.
Inspirational Outdoor Seating Arrangements for Social Gatherings
 Ideas for Comfortable Outdoor Seating and Entertaining
Building an outdoor room is simple and rewarding. To finish the look, put in a wicker sofa, a couple of wicker chairs, and a wicker table. Add some colorful throw pillows and cushions to make them more at ease.
Plants in containers not only improve the aesthetics of a space but also purify the air. The ample illumination allows summer evenings to be just as enjoyable as those during the day. You'll be glad you installed a ceiling fan on those steamy summer days.
Adding a throw rug to your outdoor living space is easy to unify the area and boost its aesthetic appeal. Get the clan together and share some laughs over a pitcher of iced tea.
Unique Patio Enhancement Decorations
This gorgeous outdoor seating plan includes a wooden sofa and two chairs, each of which seems quite inviting. This room has a breath of fresh air thanks to the white accent pillows.
Use the wicker basket to store a warm blanket and a fascinating read. You can relax in the afternoon with food and drinks at this adorable table. The place takes on a distinct island vibe thanks to the interesting lighting.
The hammock was a great touch that fit right in with the tropical motif. Put some potted plants on your patio island to add some more greenery and life to your outdoor space. The room comes together with the help of a modest throw rug.
A Paradise Awaits You on Your Back Porch!
This beautiful outdoor seating area features a hardwood sofa and two deep seats, bringing a little bit of indoor comfort to the great outdoors.
All guests will relax peacefully on the plush sofas and chairs adorned with several pillows. Repurposed barrels serve as decorative accents and functional side tables.
This room's aesthetic has been upped thanks to the addition of a wall hanging and several potted plants.
It would be convenient to set drinks and snacks on the central table. Your cozy back porch is now complete with a gorgeous woven rug to complete the look and feel. Gather your pals this afternoon and talk about what's been happening lately.
Outdoor Peace and Quiet Are Improved by the Ideal Lounge Area
This furniture's white cushions and bleached wood frame make a great backdrop for colorful accent pillows. Planters and candlesticks made of black wrought iron add a decorative touch to the neutral color scheme.
The black wicker nightstand is a great spot to keep your book collection. The flooring's sleek black and white stripes unite the room effectively. The contrast between the black and white and the green is very pleasing. When the sun goes down, nothing beats enjoying a cocktail or two outside under the glow of a candle.
Relax on the Inviting Back Porch.
Numerous knitted throw pillows add to the cozy vibe of this enveloping sofa. Relax with a good book or magazine and more space to sprawl out. On the other hand, this appears to be an ideal spot for a snooze. Keep your favorite throw blanket in the pink wicker basket.
The minimalist metal table serves a practical purpose. The beautiful atmosphere is enlivened by adding plants and other home furnishings.
The rug's captivating design is sure to captivate any onlooker. Gentle pinks, blues, and greys create a soothing atmosphere. The appeal of Sunday afternoons lounging around merely increased.
Brilliant Concept for Shining Outdoor Seating
The base of this seating group is made up of a grey hardwood bench and a bowl chair. Adding a soft body pillow and throw blanket gives the impression of a cozy retreat.
A beautiful stone table is an ideal place for the basket's inspiration, a serving dish. In this basket, we have a plant, a candle, and some rocks for decoration, all of which work together to calm our minds and hearts. This is the perfect place to enjoy a calm evening, thanks to the string lights.
The patterned area rug does a great job of delineating the space and enhancing the comfort level. The combination of steel grey, whites, and beiges gives the space a sophisticated and opulent air. Take some time on Saturday to relax with a nice book.
BEST 5 Outdoor Seating Area Ideas
Curio Centre Round Cotton Home Swing & Hammock Chair (135 Cm X 57 Cm X 43 Cm, White)
Specifications
Brand: curio center     
Color: White
Material: Cotton  
Capable of serving as a cradle or swing for lounging poolside, on the deck, or even under the setting sun. Composed of 100% cotton, its Total Weight Capacity: is 120 Kgs, This item has dimensions of 67 x 42 x 145 cm (The height of the chair, without a rope, is 45cm)Perfect for the backyard, patio, deck, garden, home, bedroom, sunroom, kid's room, and living room.
Easy to move and set up in a flash, The item is lightweight and may be easily transported and stored. Simple to suspend from a high ceiling, a tree, or any other solid overhead structure.
Conclusion 
If you're searching for a stylish and relaxing chair for your home, go no further than the Curio Centre Round Cotton Home Swing & Hammock Chair.
Very few things can stand up to the quality and durability of the materials used in their construction. It's got a removable cushion and is simple to put together. The high cost is understandable, given your high level of craftsmanship and convenience.
Curio Centre Round Cotton Home Swing
Chic Handcrafted Swing Chair: Give your home some bohemian charm with the Curio Centre Hammock Chair! Handmade from 100% cotton, this stylish, whimsical hammock is...
Durable and Sturdy: The quality material and the designed construction make the hammock swing sturdy. The thick cotton ropes of the hammock swing are as strong as...
Comfortable and Relaxing: With 31.5x23.6x45.2 inches dimensions, this hammock swing is the most comfortable chair you'll ever own. Curl up with a good book, chill...
Suitable for Indoor Outdoor: You can use the hammock swing in different places as it adds special charm anywhere you hang it. Hang it up on your porch, by the pool,...
Pros
Very comfortable and nice swing for both children as well as for adults
First of all, its budget-friendly
And at this rate, it's way better than many expensive ones
Very easy to install, very firm, and with a subtle look, it enhanced the beauty of my room
Cons
This product is not clean, it has hair strands all over, the threads are loose and falling off already, one edge has a different color rope, and the alignment is not right
It is only Suitable for children and waits up to 40 kg
Swings rope has loosened with only 30 kg weight of a child in 2-week uses
AmazonBasics Steel Zero Gravity Reclining Lounge Portable Chair, Black
Specifications
Brand: Amazon Basics    
Color: Black
Material: Alloy Steel
A zero-gravity chair can be placed anywhere outdoors to create a stress-free, weightless experience for ultimate relaxation. Frame made of powder-coated steel for durability and portability. The weather-proof Textilene fabric is attached to the frame using a double bungee cord system.
Weather-resistant Textiles can withstand the elements, provide airy comfort, and prevent excess heat buildup outdoors. It supports up to 90 kg, has a padded headrest and gently curved armrests, and is comfortable. The zero-gravity chair weighs only 7.5 Kg, making it simple to move from one place to another.
Conclusion 
In this zero-gravity chair from AmazonBasics, you can relax and let the day's worries float away. The outdoor lounge chair is excellent for lounging by the pool or patio.
It's easy to go from sitting up straight to fully reclined, where you'll experience the zero-gravity effect.
BM Wood Furniture™ Sheesham Wood Foldable Patio Tea/Coffee Table
Zero-gravity outdoor chair provides a stress-free weightless feel for optimal relaxation
Powder-coated steel frame for strength and lightweight portability
Double bungee support system securely connects the weather-resistant Textilene fabric to the frame
200-pound weight capacity; padded headrest and gently contoured arm rests; Black color
Pros
Simple yet tremendous recliner at a very fair price.
 Nice design features, looks elegant and strong. How long it will hold good, only time will tell, but it's worth it
This recliner chair is the best comfort for sitting and sleeping at a very reasonable price. The best material is used in this chair. But the locking facility for this chair needs to be improved.
Cons
Cheap material-Plastics & metal
This manufacturer could have copied the mechanics without the expertise to calibrate the material or tried to make more money from a sub-standard build.
The weight of the product is high (could have thought of a less weight build)
The seat back is not designed for Lumbar support
 Quality & Cost is not Proportionate.
Saiyam Portable Folding Chair with ArmRest and Cup Holder with Carrying Bag for Camping Travelling Lawn Patio Fishing Garden Beach Picnic Outdoor Foldable Chair (Multicolor, Oxford Cloth& Metal)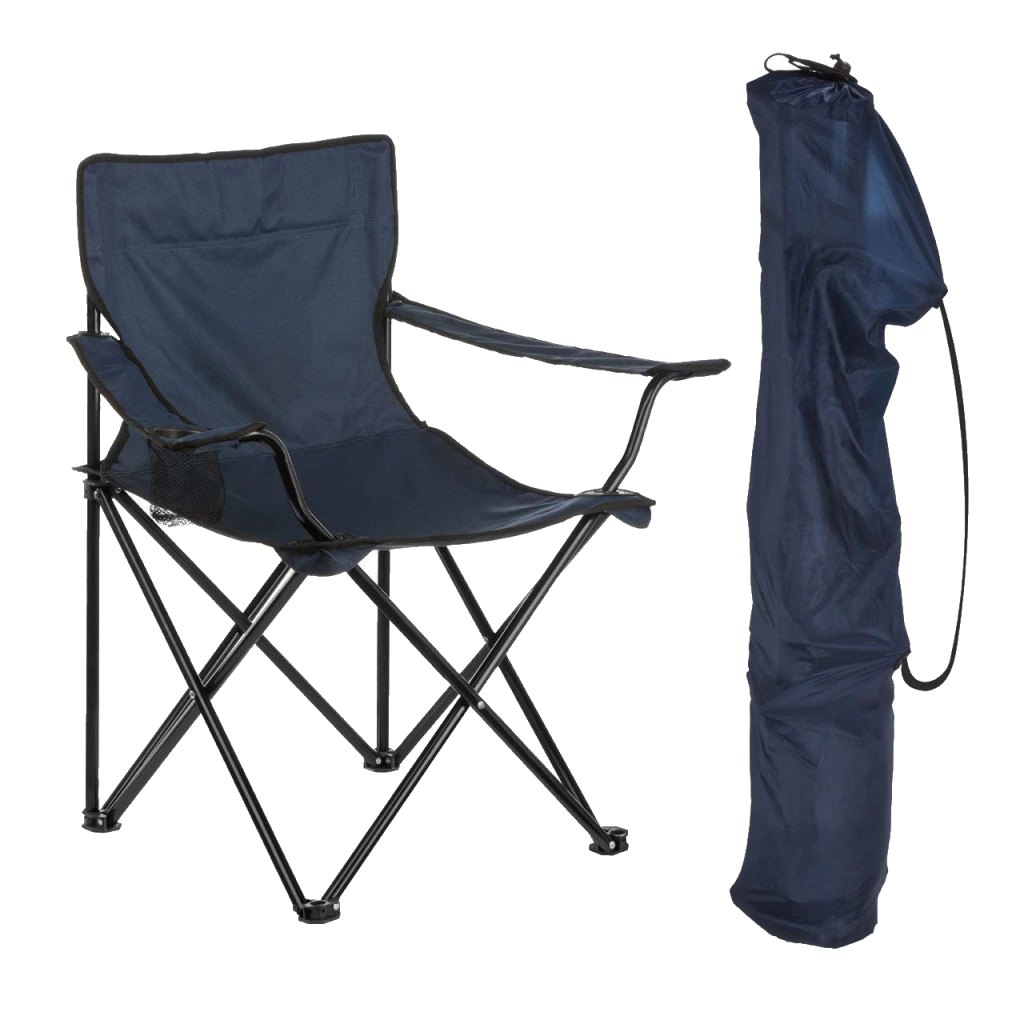 Specifications
Brand: Saiyam
Colour: Multicolour
Material: Metal
Easy-to-Assemble, Portable, Folding Armchair That Can Be Opened and Folded Down in Seconds.A portable folding chair that is both sturdy and convenient, with a special cross-leg design for added support.
Portable, lightweight, and simple to fold and unfold.Perfect for Family Vacations, Camping Trips, Backyard Parties, Terrace picnics, and Beach PicnicsDurable metal construction with built-in beverage holder.It consists of Shoulder Strap and Carry Bag
Conclusion 
A camping chair is a compact, foldable seat perfect for outdoor events like music festivals, camping trips, beach outings, fishing trips, or relaxing in the backyard.
These chairs are convenient for transporting from place to place and stowing away, thanks to their lightweight tubular construction and simple fold mechanism.
The polyester fabric that is easy to clean and bound with a sturdy back stitch adds durability to the chair.
The chair comes with a drawstring shoulder strap bag that matches the chair's color scheme and features a mesh beverage holder that can accommodate bottles, cans, and other containers.
Saiyam Portable Folding Chair
Opens And Closes In Seconds, Very Easy To Use And Store
Portable Folding Armchair With Easy Pop-Up Assembly
Durable & Highly Useful Portable Folding Chair, Unique Cross Legs Design For Better Stability. Light Weight & Easy Folding Unfolding.
Ideal For Both Adults & Kids, Perfect for Travelling / Camping / Home / Lawn / Terrace / BBQs / Beach days
Pros
The chairs arrived rather promptly and in One condition.
They are easy to open up, fold and pack and surprisingly safe and comfortable to sit on!
It's a very good product in this range, strong and durable
Cons
The chair's fabric was torn at multiple locations, please see the attached images.
 The fabric and the hoof of the chairs had dirt/mud, indicating it has been used extensively.
Embrace Modern Garden Patio Furniture/SeatingChair and Table Set Outdoor Balcony/Garden Coffee Table Set Furniture with 4 Chairs and 1 Table Set (Black) Powder Coated
Specifications
Brand: Embrace
Color:  Black
Size: 4 Chairs & 1 Table 
An Outdoor is ideally crafted for a lightweight and sturdy, ease-seeking populace. When necessary, the furniture can be dusted or wiped off with a damp cloth. Balcony Furniture Set Is Perfectly Designed For Comfort Lovers, High-Quality Rattan UV-Protected Table-Top Makes It Ideal for Outdoor Use.
Non-breakable and simple to manipulate; can withstand repeated handling Feasible and long-lasting Prolonged durability and environmental friendliness; resistance to the sun and water.
Conclusion 
You may find the garden chair set and furniture set in a wide range of colors to complement your existing design. Wrought iron construction ensures your safety, so kick back and unwind.
Our chair is hand-woven with High-Density Polyethylene Wire and is suitable for use indoors or out. Look into our various hues to find the right complement to your home's decor.
Embrace Modern Garden Patio Furniture/SeatingChair
A Outdoor Is perfectly Design for comfort lover People, Lightweight design yet durable
The furniture requires minimal maintenance and can be occasionally cleaned with a dry or wet cloth.
The perfect for Home & Garden use, With High Quality Rattan UV protected table-top makes it ideal for Outdoor use, Balcony Furniture Set Is Perfectly Design For...
Durability: Non- Breakable and Easy to handle Lightweight and durable Long Life and Eco-Friendly, Resistant To Both Sun And Rain
Pros
Value for money this is an awesome table and chair wicker quality best I recommend to everyone buying here embrace furniture.
Comfortable and smooth
Cons
The blower fitting place is broken
Packing is not good
BM Wood Furniture™ Sheesham Wood Foldable Patio Tea/Coffee Table | for Balcony, Garden, and Outdoor | Square Table | Black
Specifications
Brand: BM WOOD FURNITURE
Color: Black Square Table
Table design: Coffee Table
We've been in business in Rajasthan since 1995, and our company, BM WOOD Furniture, is a household name in the furniture section of Amazon.
And We Deal In All Kinds Of Furniture, Such As Beds, Tables, Chairs, Nightstands, Coffee Tables, Dressing Tables, Temples, Chests, Stools, Console Tables, Sideboard Cabinets, Bar Cabinets, Wooden TV Units, Wall Shelves, Etc.
This table can serve several purposes, such as a place to set up afternoon tea. Because of its sophistication and understated style, it may complement a wide range of interior design schemes. Fits nicely on a balcony, in a bedroom, or even in a living room.
This table's construction is rock sturdy because it's built out of genuine Sheesham wood. Built to last, with sturdy materials and a design that adheres to the laws of physics to ensure it can support a wide range of weights. The quality construction ensures that it will last for years.
Conclusion 
Assembling this product is not necessary. Simply unfolding it when needed might eliminate the need for laborious assembly and save a tonne of time and effort.
BM Wood Furniture™ Sheesham Wood Foldable Patio Tea/Coffee Table
Product Dimension : Top Diameter- 22.45" | Height - 23.2 in Inches (Top 57 by 57 Cm | Height 58.92 CM) | Durable Sheesham Wood With Quality Finishing / Color : Black
BM WOOD Furniture Is a Well Known Brand In Furniture category In Amazon We Are Working Since 1995 At Rajasthan. And We Deal In All Type Of Furniture Like Bed, Dining...
Multifunctional Usage: This table is perfect for you have a afternoon tea. It has elegant and simple design, which could suitable for different decor design. A...
Perfect Detail Workmanship: High quality wood wire connecting procedure which could make this more durable and solid. And the structure follows the scientific...
Pros
Very sturdy product!! Justifies the price
Looks Neat
Very helpful and portable furniture
Cons
It's very slightly rickety 
once it folds out, it relies on opposing forces to maintain its equilibrium without any additional locking mechanism that keeps it properly in place
Thank you for reading!