Building a golf bay at home
By: John Garcia | Date Posted: November 17, 2022
Do you have a spare room or even a garage where you could create an ideal golf bay at home?
If you answered yes, you should check out this article.
Looking for the ultimate golf advantage?
The golf bay is the ultimate solution for any golfer who wants to hit the links but doesn't have the time or the money to take their game to the next level.
Golf bays are designed to simulate the feeling of hitting from a tee box and provide a unique experience on the green. You can use a golf bay as a second golf course in your backyard or expand it into a home gym. Whether you're looking to improve your game or work out in your own home, the golf bay will be an excellent attraction for your friends.
How Does a Golf Bay Work? A golf bay is a temporary practice facility that allows golfers to hit the ball with the same accuracy they'd get on the course. You can choose from a wide range of products, ranging from simple plastic bays to complete golf course-like installations that will bring the links to your backyard. Whether you're interested in using a golf bay for recreational purposes or in improving your game, there are a few things to consider before buying one.
Important things to consider
Before building a golf bay at home, consider the size of the area you have available on your land. You will need a minimum of 20×20 feet for a golf bay, but the larger the area, the better. – The type of turf you want to use. There are many different types of turf available, from artificial to natural. Choose the turf that best suits your needs and budget. – The hitting net you want to use. Many different types of hitting nets are available, from simple to elaborate. Choose the hitting net that best suits your needs and budget. – The type of lighting you want to use. Many golf bays come with built-in lighting, but you may also want to consider additional lighting to improve your practice conditions. – The audio/visual equipment you want to use.
Golf simulator systems are now very affordable, starting at $500 and running up to $15000 for a complete golf system. DIY Golf simulators can be built yourself and can save you a lot of money.
When it comes to golf simulators, you often get what you pay for; that means that a $500 system may not be as good as a $5000 system. What you get for your money is an accurate and reliable golf simulator, precisely what you get when you purchase one.
Dimensions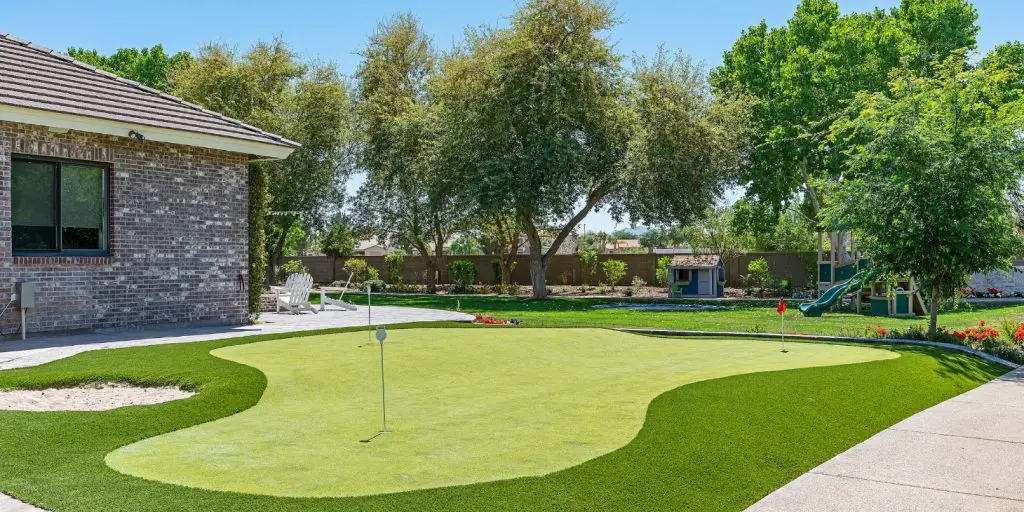 Before you build a golf simulator, measure the space where you want to place it. If you want to play a game of golf on a golf simulator that uses a Trackman 4 launch monitor, the manufacturer suggests a floor space of 10 feet high by 15 feet wide and a distance of 7 feet from the device to the mat.
Be careful if you have low ceilings. If the ceiling in your room is too low, your clubhead may hit it. You risk smacking your clubhead into the wall if the space has insufficient width.
Also, you need enough space between the impact zone and the launch monitor to look at clubhead and ball data.
Simulator screen
A golf simulator impact screen is essential for any golfer who wants to improve their game. By providing a realistic simulation of the game, a golf simulator allows golfers to work on their skills and technique in a controlled environment. It also provides invaluable feedback on each shot, helping golfers to identify and correct any flaws in their swing. When choosing an impact screen, it is essential to consider the unit's size, the simulation's quality, and the price. By considering all of these factors, you can be sure to find the best impact screen for your needs.
You don't need to spend big bucks on the screen. You could get a Nearly New option from Carls Place for $275. A 9×12′ screen with nice edges and grommets costs about $550.
Computer Gear
You will need a programme such as Foresights FXS Play to run a decent golf simulation. It's better to have lots of RAM than to run a game with a weaker processor and get the most powerful graphics card your budget will allow. The graphics card handles the processing and displaying of images, including 3D graphics, while the RAM allows you to access files and save files temporarily. Because of these components, you can run a smooth simulation with smooth graphics.
Have fun with your own golf bay, and enjoy your well-deserved relaxing drink at the clubhouse with your friends.
Thank you for reading!