How To Find The Right Interior Designer For Your Dream Home
By: John Garcia | Date Posted: October 28, 2022
For homeowners, there will surely come a time when you'll decide to renovate your home. Your house will experience wear and tear over time, and its design and style will eventually become outdated and old-fashioned. When this happens, it's time to rekindle the liveliness and vibrancy of your home's interiors.
Find The Right Interior Designer For Your Dream Home
Unfortunately, not every individual is gifted with the talents and skills of interior design. While you know some handy skills here and there, mixing and matching interior elements and colors might not be your strength. If you're facing this predicament, the best solution is to seek help and hire design specialists.
But before you select the first one you found online, here are some helpful tips for finding the right interior designer for your dream home:
Decide Into The Details
Before starting your interior designing journey, prepare a list of things that could serve as filters in your decision-making process. This will serve as a guide on how to choose the right professional designer to work with. When you know what you want, you'll be able to match your wants and needs with an interior designer capable of delivering them. Therefore, plan your home's overall look outcomes and timeline and set up a budget. There may be a connection between all of these, and they might be critical.
By deciding on such details, you know what to look for in an interior designer and can enhance your home's aesthetics. You want them to meet and fulfill your conditions. It's better to decide on these things early so they won't take up much time when the project is already ongoing. You can rely on inspirational resources to get some great design inspiration.
In addition to helping you determine your style, gathering inspiration can also help you connect with interior designers near you who create inspiring spaces. When checking references, you can also ask who their interior designers are so you'll have an idea of who is the best when it comes to the design that you want to achieve.
Request For Their Portfolio
Check out the designer's portfolio next on your checklist. This step is typically done when you're inquiring about designers. However, some people make the mistake of forgetting or overlooking this step. However, this is relevant to grasp how their projects look like in the past.
Choose a variety of styles in their portfolio. Ensure that they're not typically looking similar to each other. Check whether they have worked with something similar to what you want to achieve for your home. An interior designer can customize a home based on your lifestyle by using dramatically different colors, styles, textures, and layouts. Ensure that their portfolio has that wow factor and that you'll be impressed with their past projects. While this may not entirely be your deciding factor, it will give you an idea of whether they fit your taste and preferences.
When checking their portfolio, you can begin comparing budgets and prices. This will give you an estimate as to how much your overall interior design project will cost. Interior designers can create amazing portfolio images with an unlimited budget. But realistically speaking, you will have budget constraints so ask them what features can be achieved when working with your budget. Now, if you've found an interior designer with a project similar to what you want that will fit your budget needs, too, it's best to consider them on your list.
Check Reviews And Testimonials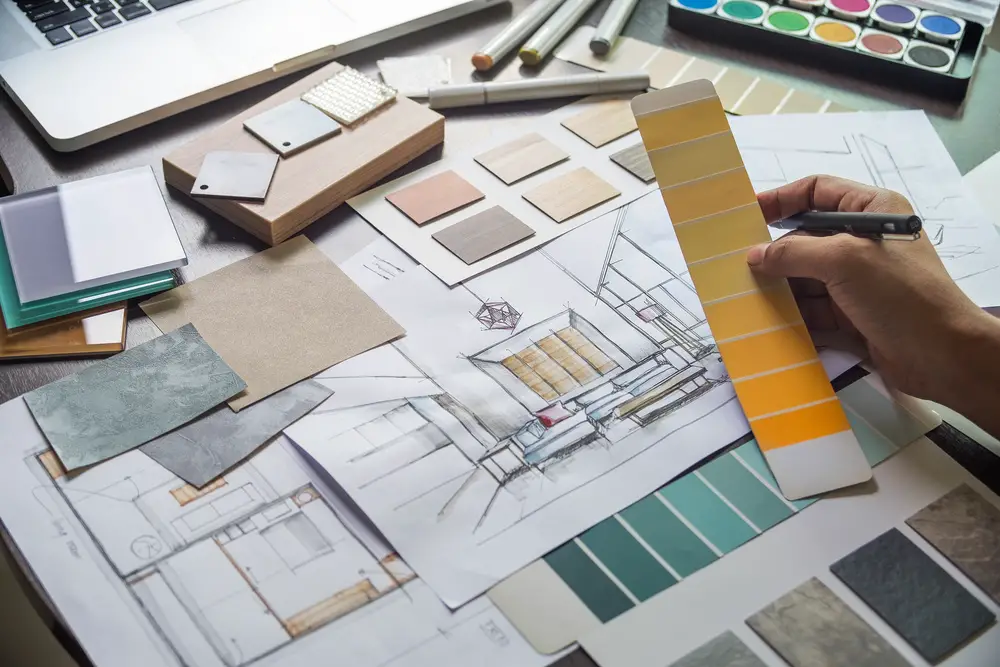 Research is vital, and it cannot be overstated. No matter what services you plan to avail, you can't rely on guts and faith alone. While some social media platforms are good references for customer reviews and testimonials, you can also find client reviews on most interior design websites.
Take some time to read them and see how their past customers view them. They might not be a good fit for your design project if their customers have had more bad experiences. It's also important to understand that referrals are better than reviews because they remove the guesswork. Whenever someone you know has a great experience working with this designer, you can rest assured that you will be working with a professional. So, talk to family and friends, and they might have a referral for an interior designer.
Consider Their Credentials
Reviewing the designer's credentials is another important item when deciding who to hire. It's imperative to check whether they are members of some industry groups, networks, and organizations. Also, depending on your country or city, these professionals could need certifications, qualifications, education, and training to become interior decorator.
No matter how skilled they claim to be, you need some proof of their expertise and experience. Interior designing is not all about having good taste and a keen eye. Technical aspects are involved in it, such as planning layouts, deciding on lighting, and so on. Look into a designer's training in your state or country.
If you want to ensure that your dream home project will be attained successfully and done professionally, you must ensure that your hired designer is certified, licensed, and qualified. With the right education, a professional designer can create unique spaces based on new trends and your available space, and they know how to come up with the best results.
Compare Prices
Before hiring a designer, find out how much they charge. You have a budget to follow and wouldn't be able to afford to spend beyond it. Interior design service prices are based on various factors, so it's important to know how they're determined. When doing your search and inquiries, including getting estimates too.
You will also save money in the long run if you get a flat rate. If you feel they offer bundled packages at reasonable prices, it's best to go for that. Additionally, flat rates are easier to budget for than hourly rates. It's all a matter of inquiring about prices and ensuring that the designer is transparent and honest with what services are included.
Conclusion
When you consider all the steps above, it will be easier for you to determine which interior designer would best fit your design needs and wants. As exciting as the final product is, the experience of decorating your home with the right interior designer is just as rewarding. Therefore, it's imperative that you choose the right professional to work with so you can achieve your dream home soon.
Thank you for reading!