8 Interesting Ideas For A One-Of-A-Kind Roof
By: John Garcia | Date Posted: November 16, 2022
A roof is one of the most critical parts of a home. It keeps you dry and sheltered from the weather, and it's one of the first things people see when they look at a house. So it's no surprise that homeowners always look for new, exciting roof ideas. If you're looking for inspiration, here are eight interesting ideas for a one-of-a-kind roof:
Skylights
Adding skylights to your roof is a great way to let more natural light into your home and give it a unique touch. They also provide ventilation, which can help cool the house inside during the hot summer months. Make sure you hire an experienced contractor for this job, as installing the skylights is key to ensuring they don't leak. The skylight design can make all the difference, so be sure to do some research before choosing a particular model. Some skylights open up to let fresh air in, while others tilt outwards, so you can easily clean your windows from inside the house.
Green Roofs
These roofs are regular roofs covered in living plants, which helps them to blend into the surrounding environment. In addition to providing insulation and cooling properties, they can also help reduce carbon emissions and improve air quality. The best thing about green roofs is that they can be built virtually anywhere, even in areas where the climate does not allow standard trees and grass to grow. In addition to plants, you can also add other eco-friendly features, such as solar panels or rainwater collection systems. The only downside to a green roof is that it can be expensive and require a lot of maintenance.
Arched Roofs
As an alternative to traditional flat or sloped roofs, arched roofs are an interesting variation that can give your home a unique appearance. Arched roofs have been used in numerous places throughout history, and their use has recently come back due to their popularity. In addition to looking great, arched roofs provide additional protection against water and wind damage. There are many ways that architects in Sarasota, Florida, can design an arched roof, so be sure to do some research before deciding on one.
However, it all comes down to the choice of your roofing company. According to the roofers in Sarasota, FL, look for service providers who listen to your vision while offering insight and advice. They must have experience working with arched roofs. This ensures they can install the structure properly and keep it looking good for years. Go through the team's website and learn more about their past projects.
Terracotta Tiles
The tiles are one of the most popular options for roofing materials due to their beauty, durability, and affordability. They also last much longer than other roofs, making them highly cost-effective. They're also effortless to repair and clean, so you don't have to worry about them becoming damaged or dirty over time. Therefore, the roofing will provide good service during the dusty summer months.
One of the most significant benefits of terracotta tiles is that they can look like just about any other roofing material out there. You can choose from various colors and styles to ensure that your roof perfectly matches the aesthetic of your home. Whether you want something classic, traditional, unique, or eye-catching, terracotta tiles are sure to please.
Flat versus Gabled Roofs
Flat roofs are most commonly used for commercial buildings, but they can also make a great addition to any residential home. They offer some key benefits over gabled roofs, such as providing more storage space and easier maintenance. However, flat roofs also have their unique challenges. For example, they can be costly to repair or replace, and there may be better housing choices in areas with heavy snow.
If you're considering a flat roof, take some time to research your local climate before making a final decision. A good rule of thumb is to avoid flat roofs if your area receives more than 15 inches of rain or snow yearly. On the other hand, this might be the perfect option if you live in a drier area or have very little rainfall.
Mansard Style Roofs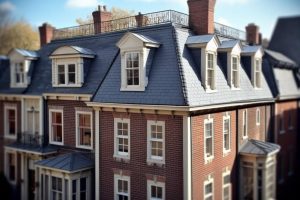 This roof style is named after the French architect Francois Mansard, who used this design for many buildings built in Paris during the 1600s. Although it's been around for centuries, mansard roofs have become increasingly popular among modern homeowners due to their unique appearance and practical nature. Mansard roofs are attractive and easy to build, making them a more affordable option than other roofing styles. They also provide plenty of insulation and protection from water damage, and they can be designed to match just about any home or building.
Barrel Tiles
Similar in appearance to terracotta tiles, barrel tiles are made from clay and are often used in Mediterranean countries. These tiles are versatile and can be combined with just about any other roofing material, making them an excellent choice for homeowners who don't want to settle for the same look. Barrel tiles are incredibly durable, lasting for decades and even centuries if properly maintained. They also provide plenty of insulation, which makes them perfect for homes in colder climates. In addition to their beauty and longevity, barrel tiles are relatively affordable compared to other roofing materials.
The Butterfly Design
The roof is one of the more unique options for residential roofing. These roofs usually have a large amount of room underneath, making them perfect for creating an attic or storage area in your home. Unlike other roofs, where most of the space is concentrated in the middle, Butterfly-style roofs scatter space throughout the entire roof. Although the butterfly roof is not ideal for all climates, it's perfect for those in warmer areas who want to take advantage of attic space. Because these roofs often have wide-open spaces and large windows, they are also great for homeowners who love natural light and air circulation.
When it comes to roofing, there are so many options to choose from that it can take time to make a final decision. Whether you want something traditional or unique, it's essential to carefully consider your options before settling on the perfect roof for your home.
Thank you for reading!