House thermostat
By: John | Date Posted: December 9, 2022
Adding a smart thermostat to your home, or improving the one you currently have, can have a significant influence on both your comfort and your finances. The cost of heating and cooling your home is the largest single expense for most households, with the majority of money spent on these two systems each year.
Best 5 House thermostats:
A programmable thermostat can help you save money by automatically switching your heating and cooling on and off based on your expected schedule. A smart thermostat has more advanced features than just a timer. It will let you program more nuanced plans for each day of the week and offer you access to your HVAC system whenever you want, wherever you are. We help you select the best smart thermostat because we constantly test and review different models.
How Home Thermostats Work
You may have spent some time studying and adjusting your home's thermostat if you have certain heating and cooling requirements. This convenient gadget regulates your home's heating and cooling systems, the two energy hogs with the most impact on your comfort and quality of life. The growing cost of energy may make you curious about the inner workings of your thermostat. You won't believe how easy it is to use and how much cutting-edge innovation it packs in.
Before we get to today's digital thermostats, let's take a peek back in time at the components of the analog thermostats that may still be found in some older homes and motels. Let's begin with the mercury switch, which consists of a glass vial containing a small amount of the element mercury. Similarly to water, mercury is a conductor of electricity and may be manipulated like a liquid. There are three wires enclosed in the glass vial. With a single wire running the length of the vial's base, the mercury is kept in constant contact.
When the vial is tipped to the left, the mercury flows over the end of the wire on the left side of the vial, making contact with the wire at the base of the vial. When the vial is tipped to the right, the mercury flows down the third wire and into touch with the bottom wire.
Thermometers and Switches
Increasing the thermostat's heat output involves rotating the coil and mercury switch clockwise, which tips them to the left.
When the switch is tipped to the left, the current is passed through the mercury. Because of this flow of electricity, a relay is activated, which turns on your home's heater and ventilation fan. The unwinding of the thermometer coil causes the mercury switch to tip back to the right, breaking the circuit and turning off the heat as the room temperature rises.
A relay activates the air conditioner when the mercury switch is tipped to the appropriate position. When the temperature drops, the mercury in the thermometer switch moves to the left as the coil rolls up.
A heat anticipator is a particularly useful feature of modern thermostats. When the air inside the thermostat reaches the desired temperature, the heat anticipator automatically turns off the heater. It's not uncommon for the area farthest from the thermostat to attain the desired temperature before the room with the thermostat. The anticipator here turns off the heat a little ahead of schedule to ensure that the heat reaches the thermostat.
System Zoning
Talking thermostats may seem like a frivolous piece of technology from an episode of "The Jetsons," but they have many uses for the elderly, the visually impaired, the blind, and others with special needs. The time, date, current temperature, and desired temperature can all be heard from a talking thermostat, which also provides audio instructions for installation.
People with visual impairments benefit the most from talking thermostats, although everyone can find some value in them.
Not knowing if there is a problem with your HVAC system can lead to thousands of dollars in repair bills. If an issue isn't caught early on, it can quickly escalate into something much more serious and expensive to fix. Because they notify you when maintenance is needed, talking thermostats can help you save time, money, and stress. Additionally, they notify you when it's time to swap out the filter in your system. Changing the filter on time can help homeowners save money on their utility bills and reduce the effects of allergies and asthma.
Smart/WiFi Thermostats
Smart thermostats are rapidly replacing conventional thermostats as the preferred option. These Wi-Fi thermostats allow you remote access and control. Learning thermostats are flexible and may accommodate your daily routine. In response, they modify the temperature in your house. The result is a reduction in your energy bill each month.
What constitutes the greatest smart thermostat for a home is highly context-dependent. If you want your smart home to run smoothly and efficiently as a whole, it's best to use just equipment from the same manufacturer. This thermostat model is recommended for a variety of reasons.
Find ways to reduce energy waste. Having complete control over your heating, ventilation, and air conditioning system allows you to save money on utility bills by setting temperatures in accordance with your daily schedule.
Maintain an energy log.

These Wi-Fi-equipped thermostats include an accompanying app that displays energy use data

. That way, it's more obvious where costs might be reduced without compromising productivity.
Manage the thermostat from the convenience of your laptop, mobile device, or smartwatch. You can control the temperature from afar with your mobile smartphone.
Manage the heating, ventilation, and air conditioning in rented buildings. A smart thermostat is a great investment for anyone with a second home or rental property. Maintain a comfortable environment by lowering the temperature when no one is around and keeping tabs on how much space each guest actually uses.
Created with straightforward assembly in mind. Even better, setting up one of these cutting-edge thermostats takes barely any time at all. They can usually be used with modern heating and cooling equipment.
Connect to other existing smart home systems. Check its compatibility with your other smart home devices after you've selected the best smart thermostat for your requirements. This allows you to keep an eye on multiple areas of your home from wherever you happen to be. The efficiency of the home can be greatly increased with the installation of smart devices such as lights, doorbells, security systems, and appliances.
Ecobee SmartThermostat with Voice Control, Black
Specification
Brand: Ecobee
Color: Black
The Ecobee Smart Thermostat with Voice Control has many useful features, such as the ability to work with Alexa, a touch screen, a remote room sensor, and compatibility with a wide variety of other smart home gadgets. You can cut your heating and cooling bills by as much as 26% per year (as compared to maintaining a constant 72 degrees Fahrenheit). The SmartSensor, which comes included, allows you to relax in even your most crucial spaces.
Conclusion
Outfitted with both Apple's Siri and Amazon's Alexa The ability to make and receive calls as well as play music, and adjust related settings, are all built right in (Apple HomePod mini required to enable Siri). When a door or window is left open, the system will automatically cease the heating or cooling (requires ecobee SmartSensor for doors and windows and a Smart Security subscription). Simplely fits into your existing smart home setup.
ecobee SmartThermostat with Voice Control

Save up to 26% annually on heating and cooling costs (compared to a hold of 72°F).INSTALLATION: Easily install it yourself in 45 minutes or less with handy video...
Included SmartSensor extends comfort to your most important rooms
Comes with Siri and Alexa Built-in for calls, music, and added control (Apple HomePod mini required to enable Siri)
Automatically pauses your heating or cooling when a door or window is left open (requires ecobee SmartSensor for doors and windows and a Smart Security subscription)
Pros
Superior Alexa features.
Monitor a room from afar.
Wi-Fi that operates on two frequencies simultaneously.
Cons
Google Nest Thermostat – Smart Thermostat for Home – Programmable Wifi Thermostat – Snow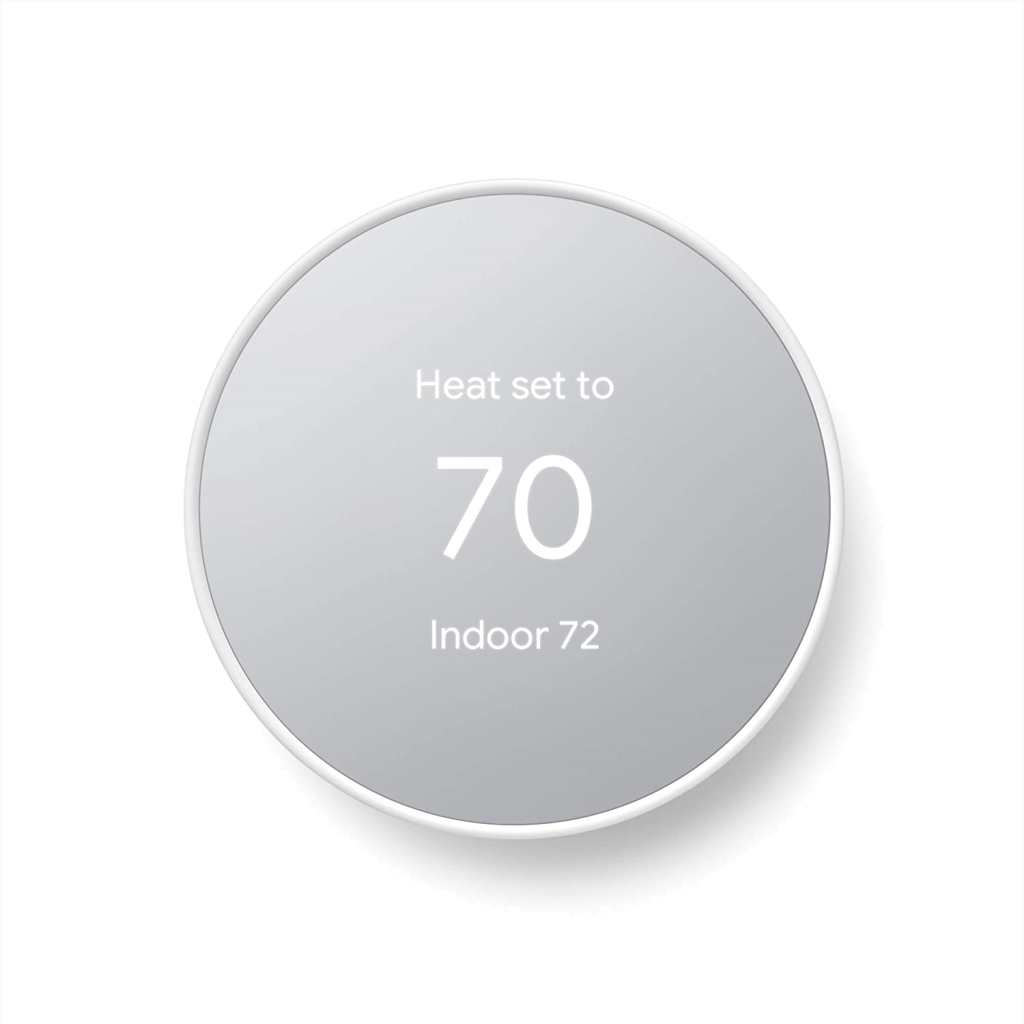 Specification
Brand: Google
Color: Snow
Energy-efficient and aesthetically pleasing, the ENERGY STAR-certified Nest Learning Thermostat is a must-have for every household. While the Nest Thermostat may operate without a C wire in most homes, a C wire or other suitable power accessory is required for specific systems, including heating only, cooling only, zone controlled, and heat pump systems.
When you leave, the Nest Thermostat automatically lowers the temperature, so you don't pay to heat or cool an empty house. Use the Google Home app on your Android or iPhone to program the thermostat and set up an energy-saving routine. Members of the household can adjust the thermostat setting from their mobile devices at any time.
Conclusion
The Nest Thermostat's base model is reasonably priced and gives you access to a number of useful functions, like voice and phone-based temperature management, programmable temperatures, and energy savings.
Sale
Google Nest Thermostat
ENERGY STAR certified smart thermostat for home that helps you save energy and stay comfortable.Product note: You can also check your system's compatibility before...
The Nest Thermostat is designed to work without a C wire in most homes, but for some systems, including heating only, cooling only, zone controlled, and heat pump...
Nest Thermostat turns itself down when you leave, so you don't waste energy heating or cooling an empty home; easily program an energy efficient schedule in the...
Remote control lets family members change the thermostat temperature from anywhere on a phone, laptop, or tablet[1]
Pros
Affordable
Stylish appearance
Compatible with the voice-activated systems of Amazon Alexa and Google Home
Cons
Negative, there's no touchscreen
Geofencing isn't always reliable.
WYZE Smart WiFi Thermostat for Home with App Control Works with Alexa and Google Assistant, Black
Specification
The Wyze app provides a guided setup process (less than 30 min). Compatible with 90% of homes, a C-wire converter is provided for those without C-wire; Wyze has a Thermostat Compatibility Checker on their website to ensure that their thermostat will work with your specific heating and cooling setup. The thermostat can be turned on and off from anywhere with a cell phone connection; Be sure your dogs are warm and that your pipes don't freeze; Use the Wyze app to give friends and family access to the controls. Ask Alexa or Google Home to change the temperature for you.
Conclusion
Make sure you don't waste time adjusting the temperature by setting daily schedules for Home, Sleep, and Away. The Wyze app is like having an in-app energy-saving gnome that makes recommendations depending on your consumption to help you cut down on your carbon footprint. Saves power by turning on and off automatically when a motion is detected or when the phone moves out of range.
Sale
WYZE Smart WiFi Thermostat for Home
Easy DIY installation: Step-by-step guided installation in the Wyze app (less than 30 min). Work with 90% home systems, C-wire adapter included for home without...
Control from the app: You can control the temperature from your phone no matter where you are, or turn it off when you are away; Keep pets comfortable and prevent...
Works with voice assistants: Adjust the thermostat with your voice by asking Alexa or Google assistant.
7-Day scheduling: Create schedules for Home, Sleep, and Away for every day so you don't have to keep going back and forth to your thermostat.
Pros
Compatible with both Alexa and Google Home
Compatible with other Wyze gadgets.
Produces reports detailing use and offering advice on how to cut costs
Cons
Disabled HomeKit and Not Compatible with IFTTT
Honeywell Home T9 WiFi Smart Thermostat with 1 Smart Room Sensor, Touchscreen Display, Alexa and Google Assist
Specification
Brand: Honeywell Home
Color: White
You can use your phone to make adjustments to your Energy Star-certified thermostat, or you can use Auto Home Away Scheduling to have the thermostat respond automatically while you're away. Adding the possibility of participation in energy conservation programmes offered by your utility company will help you save even more money. Pick the ideal temperature for your bedroom or any other room in the house to ensure a restful night's sleep. Or, you may have the Smart Room Sensors figure out where people are and direct the heating and cooling accordingly.
Conclusion
With its dual-band Wi-Fi and long-range sensors, the Honeywell House T9 Smart Thermostat ensures comfort throughout your home. The streamlined setup process is thanks to the installation wizard. Because of the low-voltage power adapter that comes with the thermostat, it may be installed in nearly any home without the need for an additional C-wire.
Sale
Honeywell Home T9 WiFi Smart Thermostat
SAVE MONEY AND ENERGY. Adjust your ENERGY STAR certified thermostat from anywhere with your mobile device, or let your home automatically react to your schedule with...
LIVE AND SLEEP SMARTER. Choose the temperature in a specific room, like the bedroom, to be exactly what you want it to be, to help get a better night's sleep. Or...
AMAZING SENSOR RANGE. The battery powered Smart Room Sensors utilize unique Honeywell Home technology to deliver an efficient signal up to 200 ft range. (Could be...
MULTI-ROOM FOCUS. Don't be forced to choose one room over another, the T9 Smart Thermostat can handle multiple rooms to focus on (requires sensors).
Pros
Simple to set up
Sensors that can be placed outside the room
Compatible with the voice assistants from Amazon, Microsoft, and Google
Cons
not directly compatible with other Honeywell smart devices
The IFTTT functionality is really lacking.
Emerson Sensi Wi-Fi Smart Thermostat for Smart Home, DIY, Works With Alexa, Energy Star Certified, ST55
Specification
Brand Emerson: Thermostats
Power Source: Corded Electric
Affordable and compatible with a wide range of home automation and voice control systems, the Sensi ST55 smart thermostat is a great buy. If you register with ensi, your information will not be shared with any outside parties. The Sensi smart thermostat, which has earned the prestigious Energy Star certification, can aid in energy conservation through the use of features like programmability, remote access, and consumption data. You can get the app up and running quickly by following the built-in, level-by-level instructions. Compatible with the air conditioning and heating systems often found in residential buildings. In most situations, a common wire (c-wire) is unnecessary.
Conclusion
Sensi can provide useful consumption information, warnings concerning your equipment, and maintenance reminders like filter replacement so that you can keep tabs on the operation and efficiency of your HVAC system. Feels and appears to be a standard thermostat. Features buttons and may be installed in the same hole as a standard thermostat, saving you time and money on repairs.
Sale
Emerson Sensi Wi-Fi Smart Thermostat
PRIVACY PROTECTION*: Sensi won't sell your personal information to third parties
SAVE ABOUT 23% ON HVAC ENERGY*: The ENERGY STAR-certified Sensi smart thermostat can help you save energy with features like flexible scheduling, remote access, and...
EASY DIY INSTALLATION: Use the built-in level and step-by-step app instructions for a quick installation. Works with HVAC equipment found in most homes. Common wire...
SMART MAINTENANCE: Sensi can help monitor the performance and efficiency of your HVAC system by delivering valuable usage reports, alerts about your equipment, and...
Pros
All major voice assistants (Alexa, Google, and Siri) are supported.
Facilitates geofencing
Cons
A boring layout
No support for If/Then/Either
Best 5 House thermostats:
Thank you for reading!